JUDAS PRIEST Guitarist Richie Faulkner On Epitaph Live DVD Shoot - "There Was No Plan B If Anything Went Wrong"
May 27, 2013, 4 years ago
Guitar World's John Katic recently caught up with JUDAS PRIEST guitarist Richie Faulkner. An excerpt from the interview is available below:
Photo by John Katic
Guitar World: Judas Priest have a new DVD/Blu-ray, Epitaph, which is the entire 220-minute set from the last night of the Epitaph tour. For the release, you guys did a premier in theaters. Was it surreal to see yourself on that big of a screen?
Faulkner. "Absolutely! You see yourself on YouTube in little bits and pieces, and that's always amazing to see. I don't think Priest has done a live show in this format in movie theaters. It's exciting, not only to see myself but to see myself with Priest for the first time on the screen. There are no other words to describe it."
Guitar World: For a lot of people, this is going to be their first opportunity to see you with the band. You rose to the occasion with great playing on this DVD. Did that factor into your nerves going into that night?
Faulkner: "I didn't let myself become nervous. I was excited and I was confident I could do the job. I was respectful of the position I was taking on the stage. Sometimes if you let nerves into the equation they can trip you up. I knew there was no point in being nervous. I did have a point to prove to the fans — that I was capable of being there. I think that was a healthy position to be in. Because the fans are so loyal and passionate and they paid their money to come down to the show, they gave me a chance, and I can only thank them for that. Within about a minute, they had their hands in the air singing along with me. It was a great testament to the fans."
Guitar World: The DVD shows the final night of the tour, correct?
Faulkner: "This was the absolute last date of the Epitaph tour. We filmed it in London, and we didn't have any backup plans."
Guitar World: I was going to ask you about that. If you flub a song you don't get a do-over!
Faulkner: "Exactly. We were joking about it. If we'd thought about it we would have come up with a different plan. If the electrics had gone down or had any technical issues, we were in trouble. Everyone was going home the next day. There was no plan B if anything went wrong. Luckily it went off without a hitch. It was a great homecoming show for Priest to finish the tour in England in the Hammersmith. That venue has had countless, iconic live recordings done there. What better way to wrap up the tour?"
Go to this location for the complete interview.
Judas Priest have released another clip from their new live release, Epitaph. When the metal giants wrapped their 2012 world tour at London's Hammersmith Apollo last May, they filmed the historic gig – possibly their last – as a souvenir for their massive, loyal following. Epitaph, that career-spanning concert-turned-long-form video, is out this week on DVD, Blu-ray and digital formats.
The band have released the following performance of their classic 'Rapid Fire':
Judas Priest's current lineup comprises lead singer Rob Halford, lead guitarists Glenn Tipton and Richie Faulkner, bassist Ian Hill, and drummer Scott Travis. Heavy metal historians will regard Epitaph as the most far-reaching live concert recording in the band's career. The set revisits the climactic closing date of the 50-week Epitaph World Tour, captured live at London's HMV Hammersmith Apollo on May 26th, 2012. Adding to the drama is the fact that this was Judas Priest's final large-scale world tour ever.
Epitaph's 23 tracks represent at least one song from every one of the band's 14 studio albums, from 1974's Rocka Rolla ('Never Satisfied') to 2008's Nostradamus ('Prophecy'). In the special case of British Steel, four songs are featured: 'Rapid Fire', 'Metal Gods', 'Breaking The Law', and perennial set closer, 'Living After Midnight'. Others exempted from the one-song-quota are the LPs which appeared before and after British Steel. The first of these is 1979's Hell Bent For Leather (UK title: Killing Machine) which lends the title song as well as 'The Green Manalishi (With The Two-Pronged Crown)'. The other LP is 1982's Screaming For Vengeance, source of 'The Hellion', 'Electric Eye', and 'You've Got Another Thing Coming'.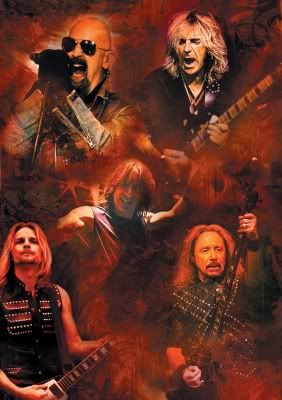 From the band: "The Epitaph world tour came to an exciting conclusion at the renowned Hammersmith Odeon (now known as the Apollo) in London. Knowing our fans around the planet recognize that venue for many legendary metal moments, and of course with Judas Priest being a British metal band it was the perfect gig for us to film and record. Big thanks as always to you our metal family of fans - so start banging your heads one more time with us as we scream together 'The Priest is back!''
Epitaph tracklisting:
'Battle Hymn'
'Rapid Fire'
'Metal Gods'
'Heading Out To The Highway'
'Judas Rising'
'Starbreaker'
'Victim Of Changes'
'Never Satisfied'
'Diamonds And Rust'
'Prophecy'
'Night Crawler'
'Turbo Lover'
'Beyond The Realms Of Death'
'The Sentinel'
'Blood Red Skies'
'The Green Manalishi (With The Two-Pronged Crown)'
'Breaking The Law'
'Painkiller'
'The Hellion'
'Electric Eye'
'Hell Bent For Leather'
'You've Got Another Thing Coming'
'Living After Midnight'
Check out the 'Turbo Lover' live clip below:
The official trailer can be viewed below: