JUDAS PRIEST's Ian Hill - "We'll Be Going Back In The Studio After This Leg Of The Tour... It Will Be A Classic Priest Album"
May 3, 2012, 5 years ago
Metal-Rules.com's Marko Syrjala has issued a new interview, conducted with JUDAS PRIEST bassist Ian Hill. In the following excerpt he discusses the band's next studio album:
Q: Richie (Faulkner, guitar) is doing great on stage, but how are his song writing skills, I mean, have you already been writing new material with him?
A: "Well we'll see, we'll be going back in the studio after this leg of the tour, we're trying to get an album out towards spring next year maybe. And then we'll see from the writing point of view and when he's in the studio and he's doing, his own stuff rather than trying to interpret someone else's. I think we'll see then but you know his true talent I suppose."
Q: This Epitaph tour is going to end in end of May…
A: "Yes."
Q: And there are no dates booked for Judas Priest after that, so what's going to happen after the tour is finished?
A: "We take some time off in the summer; we all go and have a holiday and recharge the batteries and then like I said the plan is to get into the studio and put down a little record. That will probably take maybe six months or so something like that so we may be doing a string of dates to promote that. It won't be a world tour you like it is now. It will be shorter strings and dates that fortunately it will be the last time in some places that you'll get to see us live. But we'll try and get to each country at least if you know what I mean instead of doing five or six shows in one country you know maybe we'll we just do two or three you know and cut it down like that."
Q: If I remember right, Glenn already said sometime in early 2011 that you already have some songs written for the next album?
A: "Yeah, that's true yeah, yeah three songs are already almost complete but they were recorded before Ritchie had tried to do any work on them, so that will have to be reworked just to an extend to fit Ritchie in. But yes those three songs are nearly completed and three of them have had their heads together and they've got a lot of ideas, lot of cord sequences, rifts and whatever you know."
Q: Do you already have any idea what kind of album the next one will be, I mean, is it going to another theme based album like Nostradamus or more like a classic Priest album?
A: "Yeah it will be a classic Priest album."
Read the full interview at this location.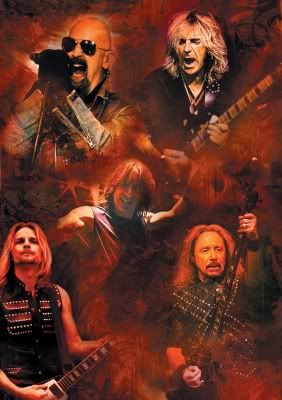 2012 Epitaph dates are as follows:
May
3 - Schleyerhalle - Stuttgart, Germany
4 - Arena - Nurnberg, Germany
5 - Linz Arena - Linz, Austria
8 - Arena - Pardubice, Czech Republic
9 - Incheba - Bratislava, Slovakia
11 - Palabam - Mantova, Italy
12 - Forum - Fribourg, Switzerland
15 - Vistalegre - Madrid, Spain
16 - ST Jordi - Barcelona, Spain
18 - Arena - Sevilla, Spain
20 - Velodromo - San Sebastian, Spain
23 - Lotto Arena - Antwerp, Belgium
24 - Kerkrade Arena - Kerkrade, Holland
26 - Hammersmith Apollo - London, UK (with SAXON and KOBRA AND THE LOTUS)