JUDAS PRIEST's Rob Halford, Richie Faulkner Talk Epitaph, 40th Anniversary - "It's Not The End Of Touring; We Are Still Going To Be Going Out There"
June 5, 2013, 6 years ago
JUDAS PRIEST's Rob Halford and Richie Faulkner were recently featured by host Matthew O'Shaughnessy on WVOX.com's Metal Mayhem show in New York as the band was gearing up for the highly regarded release of their ground-breaking Epitaph DVD. O'Shaughnessy spoke with the Metal Gods who are celebrating 40 years of screaming for vengeance about the new DVD and much more as the band was in New York City recently to promote Epitaph to the metal masses.
Matt O'Shaughnessy: Rob and Richie, the mighty Priest is celebrating forty illustrious and monumental years with the high-profile release of the Epitaph DVD/Blu - Ray, an incredible 23 - track live concert filmed and recorded on the closing night of the bands final world tour at London's legendary Hammersmith Apollo in May of 2012. All Priest fans are in for a real headbanging treat which is an understatement.
Rob Halford: "Yeah, it's another one of these great moments that you think Priest has done just about everything and yet here we are with an opportunity to put the band on the big silver screen - who knew, now we're movie stars (laughter). It's just a real thrill for the band and more importantly for the fans to see ourselves on that big monumental cinema screen and then have the surround sound turned up to eleven re-creating the metal show is going to be fantastic for the fans especially!"
Matt O'Shaughnessy: The Epitaph DVD is over two hours of full throttle Priest, but this really is not your last world tour, is it, Metal God?
Rob Halford: "Well it's turned out not to be the final world tour; what we tried to do as we suddenly got into gear again and especially since Richie came onboard; we suddenly realized that now there were more opportunities opening up. What was a final global world tour in the way that we've been doing them for the past thirty odd years is just going to change slightly. For example, we're going to do a European tour for about a month or two months and then instead of jumping on a plane and going straight to New York to start an American tour, we're just going to pull back and put a bit of space to recharge our batteries and to be able to keep that special feeling that Priest always wants to generate when we go on stage. We have a big responsibility not only to ourselves but to our fans that we don't drop the ball. And, so again, it's no different than sports athletes; Michael Jordon wasn't going out on the court as much when he was getting older. But when he went out he could get it in the hoop. But it's not the end of touring. We are still going to be going out there."
Matt O'Shaughnessy: You couldn't have picked a more prime venue to film and record Epitaph, London's historic Hammersmith Apollo.
Rob Halford: "In the United States you have The Garden, Jones Beach on Long Island and these wonderful places. You look for that type of venue to again capture the metal magic. We were saying earlier on, we never really thought about this. This was a pretty ballsy thing to do; we've done all these shows around the world and traveled like a hundred thousand miles, and you think it would have made sense to do it at the front end of the tour but we left it to last moment, the very last show. I think we were just looking for that special climax that an end of tour date can give you. But when you do it in your home country in the capitol in London at this very, very famous venue and you bring in the cameras as well. We were just on fire that night. It was just a stellar show for everybody!"
Matt O'Shaughnessy: Rob, you have eloquently stated about the Epitaph DVD that, "It's definitely a reflection on all the wonderful things we've been able to achieve. I think it's important for any musician to kind of pause and reflect..."
Rob Halford: "As we got into the preparation for this tour, I think we did start to think a little bit differently because most musicians are focused on what you are doing now. In this respect we felt that it was now time to do a celebration of the last forty years of Priest with a lot of hard work from everybody - band, crew, label and management. This DVD is like a documentary without people yapping on it. It's the music speaking for itself. I think that's the best way when you are trying to tell the life of a band. You can either do it like we are chatting now. But the real essence of why you are here and what you do is best displayed in your performance and that's what happens on Epitaph."
Matt O'Shaughnessy: You masterfully included at least one song from each of Judas Priest's fourteen classic albums ranging from 1974-2008.
Richie Faulkner: "Well, as a fan myself, I mean it's a benchmark in the bands career. Obviously, it's a different lineup and I'm responsible for that I suppose. As a Priest fan it's a must have release filmed at a legendary venue. You've got bands in the past like IRON MAIDEN, THIN LIZZY that all recorded at Hammersmith Apollo. A legendary venue, a legendary band Judas Priest."
Rob Halford: "At the end of the day it's all for the fans. We've said it a million times and we'll say it a million more times. It's for the fans, the fans, the fans. Especially in metal; metal fans are the best in the world for any band like Priest. You literally do feed off their enthusiasm and off the energy that they throw back at you night after night in the live format. And you certainly see that with the British crowd; we had people flying in from all over the world for the last show of the Epitaph tour which just shows you the dedication of the fans you have in heavy metal. This is not only an opportunity for us as a group to have a great time and check out all of the things that we've tried to do with our music. But it's for the fans. And when you are seeing the show, the show literally runs as you would see the Epitaph tour. Once that camera starts rolling nothing stops. It's a fascinating experience. There's no cutting back to the dressing room or to whatever. It's as we are playing and there are no overdubs. This is legit and this is straight from the band down onto the audio track. If you saw the Epitaph tour, you are seeing it again but you are seeing also in a very intimate way. When that camera zooms in on Richie's fingers and you can see how he's playing those notes - that's a real treat. You're getting really into the heart and soul of the bands performance."
Matt O'Shaughnessy: The fact that all of the material featured on Epitaph stood next to each other - regardless of what era it was - speaks volumes for the solidness of the catalogue.
Rob Halford: "It does and again it's a pride and joy to listen to Rockarolla for the first time as I did in I don't know how many years. To listen to 'Never Satisfied' again, 'Dying To Meet You', 'Cheater'. And then go through every other one of our records and listen to all of the songs; you tend to forget because there is so much of it. You just feel really, really proud that you've got those experiences musically to keep investigating. It really makes you think differently about the band you're in because you don't do this often. You don't really deeply reflect on the vault's of the material that you've got. And it's great that a song like 'Never Satisfied' written in the early '70's can work just as well with 'Judas Rising' from Angel Of Retribution or 'Prophecy' from Nostradamus. From the early '70's-2008 and it all connects. That's the magical thing we've discovered. In this respect, one minute your in the '70's then the '90's, then your in the 2000's, then your back to the '80's. It's really is flawless. That was just a great discovery."
Richie Faulkner: "I'd like to second that really. Again, you can play songs from different decades. You can have 'Turbo Lover' next to 'The Sentinel' next to 'Victim Of Changes'. Whatever order you put it in as long as it's in the dynamic of the show; they will stand up to each other. I think that's a testament to the bands, as you said, either foresight or whatever they were doing to do a song that was forty years old back to back with a song from 2008."
Matt O'Shaughnessy: All Judas Priest fans can identify at some period of their life with a particular Priest song...whether they were in high school, college or on their wedding day or any day for that matter. Your music was and is always timeless.
Rob Halford: "This definitely proves a point, Matt. We've been saying that for as long as we can remember. When you look at Epitaph and you listen to it and do all that cross-generational jumping around musically from different decades. It really is an affirmation that your music is still good from one place to the next. I'm glad you raised the point about weddings and college and school because that's what music does to you in your heart. When you're listening to Living After Midnight from the 1980's and you were maybe dating somebody or on vacation or whatever. These songs trigger memories. These songs really become part of your life. That's the wonderful gift of music. That really gets to the soul of the great wonderful thing that music is able to do to each and every one of us."
Matt O'Shaughnessy: How did you narrow Epitaph down to the 23 Priest gems?
Rob Halford: "We all made lists of what we wanted to do; that was the real challenge of trying to capture a little bit of something from all of the fourteen studio albums. It was a joy and also a challenge to us musically. We didn't shy away from some of these more in-depth songs. It would have been easy to go 'oh, we'll just do the easy stuff, the three minute tunes,' etc. We wanted to show you that this band is still strongly supported and behind some of these big epic moments from our records. We wanted to show we can still do this. And I think our fans love that. That you can still do 'Painkiller' with same thrust as the recording. That you can still do 'The Sentinel' with same kind of attitude - the fans go nuts because my band can still deliver the goods in that particular way."
Richie Faulkner: "What we thought was interesting as well was once we got the set-list down; each song almost becomes it's own little performance. So, you've got these little performances in a big performance. They've got their own character and production. It's a fantastic thing I think as Priest fan and obviously now being in the band it's a great thing to see. "
Matt O'Shaughnessy: Judas Priest never cared about trends or fashions and evolved musically on its own terms. A wonderful credit and testimony to the band.
Rob Halford: "No, we never did, Matt. I remember when we were in London recording around the punk and new wave era and suddenly everybody rejected heavy metal in the UK. Everybody went 'it's over, it's over.' And we said, 'no it ain't over!' We're still who we are and have our fans who are never going to leave us. With that attitude I think that was just a great example of the resilience of heavy metal music. We have gone through trends and fashions and different styles of acceptance and rejection and we don't really care about that. What we care about is our music and the fans that support us globally. I think it was RONNIE JAMES DIO who said heavy metal will never die. And that's an absolute fact."
Richie Faulkner: "The great thing about Priest as well is every album has it's own character and that they are always pushing the envelope as far as sonic landscapes and different effects. They always pushed the envelope into new territory and when you do that you are always a leader. You're the one carving the niche so to speak."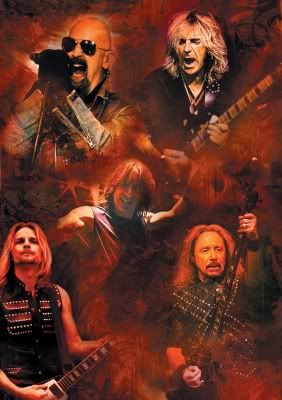 Matt O'Shaughnessy: Metal God, Rob Halford, it's been 40 glorious and illustrious headbanging years. Can you tell me that you will be doing this when you are eighty?
Rob Halford: "I'm sixty-two this year so we haven't got too long to wait (laughter). I'm really glad you brought this up, Matt. One of my all-time heroes is WILLIE NELSON who as you know is celebrating his 80th year. God bless the man. Even somebody like TONY BENNETT, the great crooner. These guys inspire me as a musician. Seventy is the new fifty. Like heavy metal will never die - The Metal God will never die."
Matt O'Shaughnessy: What would you finally like to say to all Judas Priest fans who are going to enjoy Epitaph?
Rob Halford: "Thank you for looking after the band. You cannot do this without your fans. So a big, big thank you to every Judas Priest fan. Relive the moment and enjoy the DVD. We look forward to the next time when we go out on stage and say. 'the Priest is back!'"