JUNIUS To Release Reports From The Threshold Of Death Album On October 25th
August 16, 2011, 8 years ago
Boston-based dark rockers JUNIUS has announced plans to release their sophomore full-length, Reports From The Threshold Of Death, on October 25th via Prosthetic Records.
With their last album, The Martyrdom Of A Catastrophist, Junius explored the controversial theories of scholar Immanuel Velikovsky. The concept was centered around the trials and tribulations of Velikovsky's life, providing a captivating narrative to the band's expansive, dreamlike soundtrack.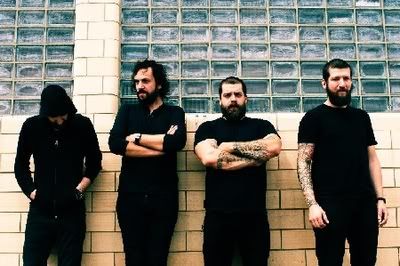 Conceptually picking up where The Martyrdom left off (with the death of Velikovsky), Reports From The Threshold Of Death chronicles the journey of the soul after the body dies. In writing this album, vocalist/guitarist Joseph Martinez was inspired by reports and accounts of near-death experiences.
On the album's ten beautifully cathartic tracks, the band takes listeners on a journey into the unknown, channeling basic human themes like love, regret, and longing. Massive walls of guitars drive with steadfast rhythm beneath soaring synth and vocal melodies throughout the album's arc, providing a passionate soundtrack for the journey into the light.
Reports From The Threshold Of Death was the first album to be recorded at Will Benoit's Radar Studios in Clinton, CT (the first fully solar-powered sustainable studio on the East Coast) with longtime friend/producer James Dunham of rock-noir band INAEONA. The recording was in many ways a return to Junius' roots, with engineering assistance from past collaborators Benoit and Daryl Rabidoux, mastering by Nick Zampiello and Rob Gonnella (ISIS, CONVERGE, TORCHE, DOOMRIDERS), and art designed by former Junius bassist Ira Bronson (of Black Day Creative).
Described by Rolling Stone as "a perfect hybrid of NEUROSIS and THE SMITHS," the members of Junius have crafted their own distinctive style of genre-bending rock that's borne of experiments in isolation and asceticism. It's this austere approach from one of America's hardest working bands that adds a weighty sense of purpose and intrigue to their output.