KAMELOT Confirm Headline Show At Bulgaria's Kavarna Festival
March 10, 2012, 7 years ago
According to an updated from symphonic rockers KAMELOT, they will be one of the headliners at this year's three-day Kavarna Festival in Kavarna, Bulgaria. The festival takes place July 13th - 15th. Compete event details can be found at this location.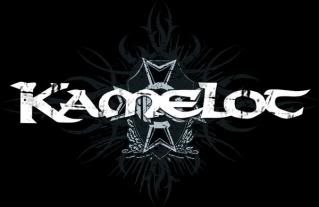 Guitarist Thomas Youngblood and keyboardist Oliver Palotai recently took part in an interview with Kamelot Norway, during the writing sessions for their new album in Tampa. An excerpt follows:
Q: Kamelot has been growing on an enormous scale ever since the release of The Black Halo. Are you satisfied about where band stands today if you look back on the days when the band was still fresh in the music industry?
Thomas Youngblood: "Absolutely, the band is still growing too. Both in terms of fanbase as well as record sales. Our live shows have been a big factor as well since we invest in bringing the fans something unique every time we visit."
Q: Finding a new vocalist seems to be a very tough decision. What would you say are some of the biggest attributes the future vocalist of Kamelot should have?
Thomas Youngblood: "Great voice, great stage presence, ability to travel and also getting along with the other members. There are a lot of great singers out there, I've heard so many. But when you dig deeper into their personal situations it becomes a bit more complex to see them in a professional working band like Kamelot. Some have a nagging wife, some may be addicted to something, some may not like flying in an airplane. If you want to be in a band then you cannot have those hang-ups."
Oliver Palotai: "Would be great if he could pass by the keyboards on stage without throwing them off the stand, haha! Had some problems with that in the past. Besides that I find it important that they are teamworkers. No ego crap. Musicians are always strong individuals, but you have to put some of that aside to be successful."
Read the full interview at this location.
European sources have confirmed to BraveWords.com that NIGHTWISH and Kamelot will embark on a fall tour together. Beginning with a pair of dates in Atlanta, GA on September 12th-13th, the tour will proceed to the Beacon Theater, in NYC, then on to Montreal. Ultimately making a giant loop across the northern tier of the continent, then a southern swath, before ultimately ending in Orlando, FL about a month later. Most of the venues will be 2-3000 seaters (New Orleans House Of Blues, at 800 capacity, being the smallest stop) and where they can't be accommodated, the tour will play two nights!
As previously reported, Kamelot have announced their highly anticipated return to Europe on the heels of their new album. The tour takes off in Eindhoven, The Netherlands on November 2nd, taking their spectacular show to over 20 top venues and cities in Europe.
Kamelot has a flair for the theatrical, as well as their innovative and creative spirit. The tour promises to push the limits of the live concert experience, bringing fans a spectacle each and every night.
"This new tour is yet another step for us and the fans, it's more theatrical and we will be bringing the usual "in your face" attitude our fans deserve", Thomas Youngblood said in a January interview. "It's an enigmatic theme, a new stage design and even more surprises for the Kamelot fans!".
ICS Festival Service GmbH is the International tour promoter for The European Tour and under the direction of Thomas Jensen, CEO Global Touring and Chairman – ICS who said: "Kamelot has set out to revolutionize Metal music and with their new production they continue to do exactly that. We're thrilled to take The Kamelot European Tour to fans around the world".
Kamelot's new album will be the follow-up to Poetry For The Poisoned, which was released on September 10th, 2010, by earMusic/KMG Recordings. The album reached the band's highest chart positions in their history with entries in the Billboard Top 10 Hard charts and numerous Top 10 and Top 40 entries around the world.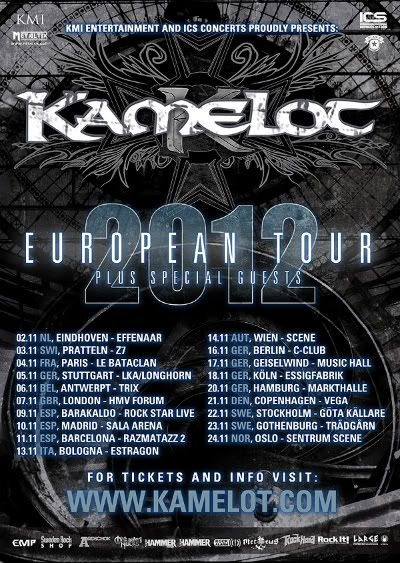 Tour dates:
November
2 - Eindhoven, Netherlands - Effenaar
3 - Pratteln, Switzerland - Z7
4 - Paris, France - Le Bataclan
5 - Stuttgart, Germany - LKA/Longhorn
6 - Antwerpt, Belgium - Trix
7 - London, England - HMV Forum
9 - Barakaldo, Spain - Rock Star Live
10 - Madrid, Spain - Sala Arena
11 - Barcelona, Spain - Razmatazz 2
13 - Bologna, Italy - Estragon
14 - Wien, Austria - Scene
16 - Berlin, Germany - C-Club
17 - Geiselwind, Germany - Music Hall
18 - Köln, Germany - Essigfabrik
20 - Hamburg, Germany - Markthalle
21 - Copenhagen, Denmark - Vega
22 - Stockholm, Sweden - Göta Källare
23 - Gothenburg, Sweden - Trädgårn
24 - Oslo, Norway - Sentrum Scene
Kamelot recently issued a new video for their song 'Necropolis' which can be seen below. Thomas Youngblood commented, "With this video, we gave Owe (director) free reign to create something unique and visually stunning. Him and his team did a fantastic job!"