KILL DEVIL HILL Appearing On That Metal Show This Saturday
December 2, 2011, 8 years ago
KILL DEVIL HILL drummer Vinny Appice (BLACK SABBATH, HEAVEN & HELL, DIO) and bassist Rex Brown (PANTERA, DOWN) are set to appear on this Saturday's new episode of That Metal Show on VH1 Classic. The show premieres at 11 PM (EST). Reruns of the episode will air as well and for a complete schedule visit VH1Classic.com
Vinny and Rex will chat with hosts Eddie Trunk, Jim Florentine and Don Jamieson about the band (which also features Dewey Bragg and Mark Zavon), their self-titled debut album, future touring plans, working with SPV and much more.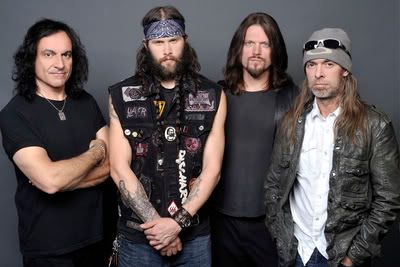 Kill Devil Hill recently signed with SPV/Steamhammer. The band is rounded out by guitar slinger Mark Savon and killer vocalist Dew Bragg. Their debut album is tentatively scheduled for a March 2012 release.
Vinny Appice commented on signing to SPV and what people can expect from Kill Devil Hill: "We are a new band with the power, energy and history to stand out, create music and be successful. We are proud to be with SPV, a label with the same attitude, talent and drive!"
Bassist Rex Brown is equally excited about joining the SPV family: "It is with a great pleasure to be aboard the SPV Music Blanket. We are looking forward to a great new experience with a label that has put out many great metal records. Cheers!"
The still untitled release is being produced by Warren Riker who is best known for his work with Down, CORROSION OF CONFORMITY, SUBLIME, CATHEDRAL.
Olly Hahn (A&R; Steamhammer/SPV) on signing Kill Devil Hill: " "It`s a great pleasure to welcome Kill Devil Hill to the SPV family. It´s not only because of Rex Brown and Vinny Appice, mostly it`s because of their music and that they are a real band. Music wise they don`t neglect their past but they also give some fresh elements to our beloved music genre called heavy metal!"
Kill Devil Hill previously posted new studio footage, check it out below:
Vinny Appice told BraveWords.com earlier this year that, "We have about fourteen or fifteen songs already and they just keep getting better and better. I've noticed that with a lot of bands (Sabbath and Dio included) that there's sometimes this window of writing where you can't write anything crappy. It's just coming out. There are also times when it's like pulling teeth where that window of writing has moved on and it's just not happening. But right now, it's just really really happening where things are aligned and smooth. It's really creative and we're coming out with some really really good stuff."
Read the entire interview here.