KING'S X - Drummer Jerry Gaskill "Having Some Difficulty With The Breathing But Overall Looks Sharp" Says Dug Pinnick
March 11, 2012, 5 years ago
KING'S X frontman Dug Pinnick has issued the following update on the condition of drummer Jerry Gaskill who suffered a serious heart attack in the early morning hours on Sunday, February 26th:
"Saw Jerry and he smiled and gave the thumbs up. He seemed to recognize everyone and seems on it. Really cool. He is having some difficulty with the breathing but overall looks sharp. Feel much better about this. Very excited. Just want to share that with you guys. Julie (Jerry's fiancé) is amazing."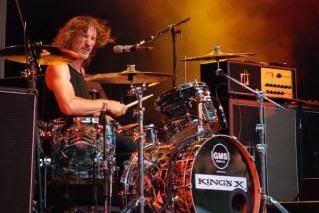 To help Jerry Gaskill pay his medical bills promotion, the band are offering up a live MP3 concert called Burning Down Boston - Live At The Channel 6.12.1991. This release was edited and mastered from a stereo FOH recording. While the audio is far from perfect sonically, the performance documents yet another magical night on tour while supporting the Faith Hope Love album. While many of the song titles are familiar, the band expands many of the cuts featured here, including performances that are blistering ('Moanjam'),heavy and funk-laden ('We Are Finding Who We Are'), beautiful ('The Burning Down'), and truly transcendental ('Over My Head'). A few songs from the show were omitted due to tape damage. However, we have included three bonus tracks (an additional 15 minutes) from the same show that were not presented in the main tracklisting.
All recordings previously unreleased: 14 songs, 89 minutes.
Tracklisting:
'We are Finding Who We Are'
'Mission'
'Far, Far Away'
'We Were Born To Be Loved'
'It's Love Intro'
'It's Love'
'I'll Never Get Tired Of You'
'Visions'
'Over My Head'
'Moanjam'
'The Burning Down'
'Talk To You' (bonus track)
'Fall On Me' (bonus track)
'Power Of Love' (bonus track)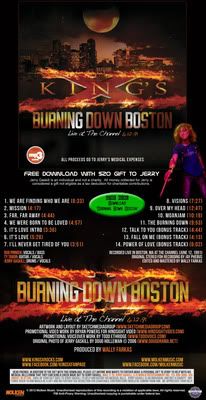 In addition to the gift with this download, anyone who wants to further make a personal gift to Jerry to help him with his medical bills know that they can send a check made out to Jerry Gaskill. Mail it to: Jerry Gaskill, c/o World Entertainment Inc., P.O. Box 3095, Sea Bright, NJ 07760. 100% of your gift goes to Jerry Gaskill to help him defray his medical bills. Jerry Gaskill is an individual and not a charity. Any funds given to him would be a gift and no further tax deduction for charitable contributions would be coming from him.
All upcoming North American tour dates for King's X have been cancelled. Jerry will be spending these days recovering back to full health so that he can hopefully join the band behind the drums at some point in the future.
Watch for updates on his condition here.