KISS - 20 Years Of Revenge With Eric Singer; "I Was Getting The Opportunity To Play In KISS Now, But Under Really Bad Circumstances Because Eric Carr Passed Away"
May 29, 2012, 8 years ago
By Mitch Lafon
May 19th, 2012 marked the 20th anniversary of the brilliant KISS Revenge album. BraveWords.com has marked the passing of this landmark record with a series of interviews conducted over the last few weeks. Our first four parts focused on the lesser known heroes of the Revenge album as well as former KISS guitarist, Bruce Kulick. In this, our fifth and final installment, we focus our attention to current KISS drummer, Eric Singer. He first came to prominence with KISS as 'the new guy' on the Revenge album. BraveWords.com caught up with the veteran drummer (who is gearing up to hit the road with the band on their The Tour with MÖTLEY CRÜE) for his comments on the album that started his career with the band.
BraveWords.com: Tommy Thayer recently mentioned that he did background vocals on Revenge.
Eric Singer: "Yup. I was there when he did it. I did it with him and (I think) Jaime St. James and somebody else was there. I think Tommy has a co-write on one of the songs on the record. If I remember, when I did the record... I did the drum tracks in two sessions and then I went on tour with ALICE COOPER right away the next day - after I did the second batch of songs. When I came back months later (after the tour) they were doing overdubs and mixing... I wasn't there when Bruce was doing lead solos and the vocals, but I was there when we did some background vocals and I remember us doing it. I remember me going in a recording a gong for the very end of 'Unholy'. I recorded two different size gongs to try and get this 'wall of sound'. The idea of me wanting to do the gong came from me being such a huge QUEEN fan and Queen geek... 'Bohemian Rhapsody' - the last line 'any way the winds blows' and the big gong at the end. That's where I got the idea. I always thought that was such a great effect. We actually did that on one of the songs on the new record, Monster, as well. The thing ends with a big gong. We love the production stuff and Queen is my favorite band, so I'm biased."
BraveWords.com: Let's go back to the beginning of Revenge. You'd been on tour with Paul (doing his solo shows). You'd recorded the demos on the Hot In The Shade album (and it's thought that some of your drum tracks ended up on the album). On Revenge, the spotlight is squarely on you because you're replacing fan favorite, Eric Carr, who passed away...
Singer: "What had happened is that I did 'God Gave Rock N' Roll To You II' for the Bill & Ted Bogus Adventure movie and Bob Ezrin produced that. Eric was ill at the time, so Paul called me up and asked me to do that. He wanted me to play on this song for a movie soundtrack. That was their way for Bob and Kiss to feel each other out to see if there was a spark. It came out really cool and I like it because it has a lot of Queen type influences with the vocals, the arrangement and the break down in the middle. It's very Queen like in the approach. Then I went on tour with Alice. Literally, I just walked in the door and was about to put my suitcase in the bedroom and the answering machine went off. Paul was leaving a message asking me to call him. I picked up the phone and he said, 'we need help with some recording because Eric Carr is ill.' I told him that I was only home for a couple of weeks and he said,'okay. Go to Gene's house.' I changed my clothes and went right over to Gene's house and met Bob Ezrin there. They walked me through some of the riffs and ideas. They said start rehearsing tonight, so I made plans to meet Bruce. He started showing me some of the riffs..."
BraveWords.com: Had you worked with Bruce at any point before this?
Singer: "Only on the 'God Gave Rock N' Roll To You II.' That was Gene, Paul, Bruce and myself with Bob Ezrin producing. Eric Carr came in a did some vocals later and he did the video, but I actually played drums on the track."
BraveWords.com: It's the only KISS tracks that has two drummers on it...
Singer: "Well, not both playing. So, I went to work with Bruce and I did find out that they had tried working with a couple different drummers and Eric Carr a couple of times before they called me up. They got together with Eric, but he was ill. He was going through chemotherapy, but I wasn't there. I was playing in Alice Cooper's band. Anyways, they told me that they had tried working with Eric, but that he just wasn't strong or fit enough to go through the rigors... Being the studio is long days and it's both mentally and physically very draining. They tried Aynsley Dunbar and for some reason Gene and Paul... I'm paraphrasing, but it just wasn't 'the right style'. KISS is a certain kind of style and you have to come in an assimilate. Aynsley is a great drummer and he's one of my favorites, but it just proves that just because somebody is technically qualified; it doesn't mean they're the right guy..."
BraveWords.com: Right, you wouldn't want Neil Peart in KISS...
Singer: "Aynsley is more progressive. He had played with FRANK ZAPPA for crying out loud. He's got a lot of chops and is an accomplished drummer, but stylistically for what KISS does; it wasn't the right thing. I heard they tried some other guy, but I don't know his name. It was a studio drummer. Then they tried Eric Carr again and that's when they called me. I found this stuff out much after the fact. So, I did the tracks and what they were going to do... I was only available for a couple of weeks. Ezrin said, 'let's just have you do half the tracks and we'll have Kevin Valentine do the other half.' Kevin came into the picture because when Paul was doing demos for Hot In The Shade; I had been doing some of the demos...  Paul was going into a studio and putting these ideas down and was having me play on the stuff, but I went on tour with BADLANDS. He wanted me to keep doing these demos with him because Eric Carr lived in New York, but I couldn't do it. The Badlands' record had come out and we were going to do our first tour in Japan. So, I called Paul and told him that, 'I'm not able to to continue...' So, that's how Kevin got introduced to Paul and Gene. He ended up doing some demos and recording projects for Gene (Doro Pesch on her 1990 Doro album). That's how he met Tommy Thayer (who also played on the Doro album). That's how he and Tommy ended up in that band, HARLOW with Teresa Straley. I know it's minutiae..."
BraveWords.com: But KISS fans love minutiae...
Singer: "Kevin Valentine and I went to high school together in Euclid, Ohio. He's two years older and I used to see him play in locals bands, so I've known him for a long time. When he moved to California we reconnected and that how I referred him to do those demos. Back to doing the Revenge; since I only had two weeks, they said, 'we'll have you do half the record and Kevin Valentine will do the other half.' Paul had already been working with him and liked Kevin's drumming. After, we started recording Paul, Gene and Erzin... We caught a good vibe. Ezrin said, 'we think we should have you play on the whole record.' He got on the phone to Alice's manager, Shep Gordon, and said, 'this is a good opportunity for Eric and the drummer in KISS is ill and they're really liking what's going on here with Eric.'"
BraveWords.com: At this point, you're not in KISS. You're just some 'studio drummer'...
Singer: "At this point I'm the drummer in Alice Cooper, but because I had been on Paul's solo tour... In these kinds of situations, you hire your friends because you know what you're going to get."
BraveWords.com: So, at this point, no talk about joining the band or touring with the band...
Singer: "No no no no no..."
BraveWords.com: So, no commitment from either side...
Singer: "This was basically 'can you help out and play on the record.' Every intention was to have Eric Carr play on the record, but he was ill. Once we started recording the vibe was good and they decided they wanted me on the whole record. It went from me playing on half of it... So, I literally did the next batch of songs up until I left for Europe (with Alice). A lot of people know that Kevin Valentine played on 'Take It Off'. I did the song and Ezrin said, 'it's good, but I know it could be better.' He knew I had to leave. I simply ran out of time. I couldn't just come back tomorrow..."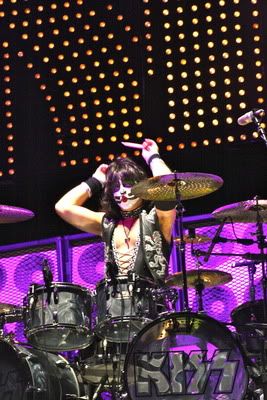 BraveWords.com: So, you knew right away that Kevin played on the track. It's not something you discovered ten years later...
Singer: "I knew right away because Ezrin said, 'it's not right and it could be better.' We cut the stuff and he listened back... Gene went out to use his car phone and we called Kevin and said, 'we want you to play on one song.' I told Kevin that I was going to leave my drums here and just go ahead and play the song. Kevin and I are friends, so there was no problem and I was just a studio guy at that point. The whole idea was just to get the job done. I didn't have an ego about it. I had to leave and he ended up coming in. That was it and that's how he ended up on Revenge. I went to Europe and Paul called me up a couple months later... Eric Carr had gotten real real ill. They invited me to come down to the studio to listen to what they were doing. I hadn't heard anything... This was in late '91 or early '92 (I don't remember), but I went down to Track recording on Vineland Avenue (that's where they did the over dubbing). That's when the talked about putting the gong on. Then I did a few backgrounds (vocals). We did some gang vocals which was very common for KISS to do."
BraveWords.com: Which is also classic Ezrin....
Singer: "We did the same thing on Carnival Of Souls' 'Childhood's End'."
BraveWords.com: Which is a decent song...
Singer: "Don't get me started on that record."
BraveWords.com: 'Master & Slave' is the only great song.
Singer: "I like 'Hate'. If the record was mixed differently, not produced differently... I think Toby Wright is a really good producer, but he had a point of view on how he wanted to mix the record... We had really different sounds when we recorded it, but when we mixed it he said, 'I hear it this way.' At that point, Gene and Paul were into the Reunion... I don't want to say they didn't care, but their energies were focused elsewhere. Bruce was the one that was the most active with that record. We definitely didn't go with an Ezrin production because he would have made it more lush, big... That record could have sounded big and powerful like Revenge had we gone with that approach to mixing it. We had great drum sounds (ambient room sounds), but he decided to go with this really dry almost mono sounding thing and I don't know what that was about. It just wasn't what a KISS record sounds like. It's a good record, but it's not a good KISS record. That's not what KISS sounds like. Getting back to Revenge - I really wasn't around much and at the point of mixing stuff, Eric Carr had passed away. I felt awkward 'cause, at this point, they had asked me to play in the band. Paul would call me up and invite me down to the studio and say, 'you're part of this record too.' It was an awkward situation for everyone: for me, the band... I was getting the opportunity to play in KISS now, but under really bad circumstances because Eric Carr passed away."
BraveWords.com: How did you feel about that?
Singer: "Mitch - that is NOT how you want to get a gig. You don't want to have something positive in your life come at someone else's misfortune."
BraveWords.com: Did you ever think to yourself before joining that since KISS fans are fiercely loyal that they may hold this against you and this could actually be career suicide for you?
Singer: "Nah. It's just like the make-up thing... When you are a musician and you are trying to make a living playing... Not many people get to be in a band that they start from ground zero and get to be a big success. That's really rare. That never happened for me, but I've had some great fortune playing for bands in great situations with awesome musicians. I'm totally proud of that and I don't regret playing with any of the people. If someone asks you to play (and I'm a drummer for a living) - I've been gainfully employed, so I'm very blessed, but I won't let anybody tell me that I didn't earn it."
BraveWords.com: As far as the 'Cat' make-up. I don't believe you deserve any criticism because if you hadn't done it somebody else would have. Maybe Kevin Valentine would be the 'Cat' in KISS now...
Singer: "Anybody who says they never would have done it because they have ethics or morals is full of shit. There are guys in successful bands right now that if they got the call would do it today.  If Gene and Paul called them and said, 'we want you to be the drummer in KISS, but you have to wear the make-up...' I guarantee, they'd all say, 'yes.' They might say the wouldn't do it, but they'd wear the 'Cat' make-up and have no problem with it. For the exposure, financially and all the things that go along with it... There aren't that many great gigs for guys in this business."
BraveWords.com: Perhaps Lars of Metallica or the Crüe's Tommy Lee would say no, but everybody would say yes.
Singer: "That's my point and they're the original drummers in the original bands that they created from ground zero. Why would they leave?".
BraveWords.com:  Back to Revenge. You were a fan. You went to their shows as far back as 1974 in Cleveland. What did it mean to you to be in the band now?
Singer: "I was all excited and happy. It was a great opportunity and I get to be the drummer in KISS. What's the negative side to it? I did feel awkward and uncomfortable because it was at the expense of Eric Carr passing away. He was very loved by the fans, but I knew the band was going to continue on and I was blessed that they asked me. They could have had pretty much anybody be the drummer in KISS."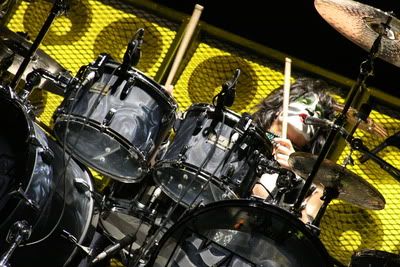 BraveWords.com: Musically, the band came out of an '80s with albums like Asylum and Crazy Nights that were more pop, but Revenge wasn't that. What were you thoughts about the music on Revenge?
Singer: "I knew when we made the record that it was really cool. Bob Ezrin is a real producer and I knew what he brought to it. He's one of the best of all time. He gets you to look at things from a point of view that you might not ordinarily see it from (musically). He can communicate what he wants musically on an instrument... That's the difference between a producer and an engineer who's now calling himself a producer."
BraveWords.com: Bob is also known for bringing in 'his guys' (ghost musicians). You recently found out that he brought in Dick Wagner to play the solo on 'Every Time I Look At You...'
Singer: "In fact, I think it was you that told me. I never knew it, but the biggest bands had ghost people play on some of their stuff. KISS was known for this stuff which is why I find it so funny when people get so mad about the Peter Criss thing. He wasn't even playing on the last couple of records... [ed.note: Peter Criss was credited for, but for the most part did not play on KISS' Dynasty, Unmasked and Psych Circus albums.] People have short term memory. They don't want to remember the ugly parts; only their version of the glory and good parts."
BraveWords.com: I support the current version of KISS '110%' - and if you deconstruct the KISS albums of the '80s, you'll find that it was a lot of studio musicians and not always Gene or Eric or... It was Jean Beauvoir, Anton Fig, Allan Schwartzberg...
Singer: "I guess I can feel good knowing that I played on all the records I 'played' on... I was on every song except for the one ('Take It Off') and I never denied it and not to put anyone down, but Kevin basically learned what I put down for the song, but just did a better version of it."
BraveWords.com: That's why I'm a huge supporter of the current line-up. You made Sonic Boom and it's the four guys. You made Monster and it's the four guys. You play live and it's the four guys with no tapes, no off-stage keyboardist... That's what's great about the current line-up. It's a band again. It's not Gene and Paul with a cast of thousands... Anyhow, twenty years on what do you think of the Revenge album now?
Singer: "Without being biased, I really like it because it was a really strong record by the band. They were trying to redefine what KISS was about. It was a little heavier, a little darker and away from the glam of the '80s. For some fans, this is their version of KISS with Bruce and I in the band."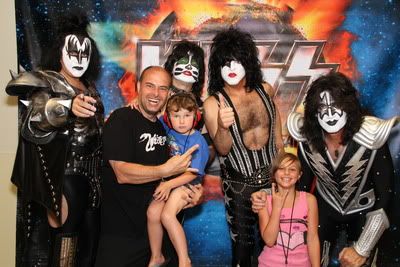 BraveWords.com: How was it working on the new KISS album, Monster?
Singer: "When we first started working, Paul wanted to get all together and flush ideas out. He wanted it to be fresh with no old riffs that somebody had worked on a previous record (that you're just trying to re-write). Gene will write 30 or 40 ideas just to come up with four songs for the record. That's the way he works. Gene, Tommy and I went into a demo studio a couple of times to put some ideas down and I told Gene, 'I think you have another solo record here.' I told him that when we have a break, we should go in and put some of these other ideas down. He's got a couple of songs that are in the style of 'World Without Heroes.' They're really good. When, Gene writes in that style it kind of reminds me of a George Harrison kind of a thing, but Paul didn't want any slower, mellower, ballad type songs on the record. He wanted everything rock n' roll. Understandably, he had a point of view on the style and direction of the record. So, that's what we're going to do. We're going to stick to that point of view. No outside writers. No old material. All new material written by the band now. Nobody, but the band plays on the record. Nobody, but the band sings on the record. Nothing and that's what it is."
BraveWords.com: Anyhow, any last words?
Singer: "I love the fans. Their is NO band that has fans like KISS. This zealous. This dedicated. This cool. Some of my really close personal friends, I've met because they were KISS fans. I think that's cool. There are some great people and we have a common language; everybody speaks KISS."
Check out parts I to IV below: