KISS - Monster Reviewed
October 7, 2012, 6 years ago
KISS' long-awaited album, Monster, is out now in Europe and will see the light of day this week in North America. BraveWords.com's famed author/reviewer Martin Popoff has heard the album. Check out his 8.5/10 review below: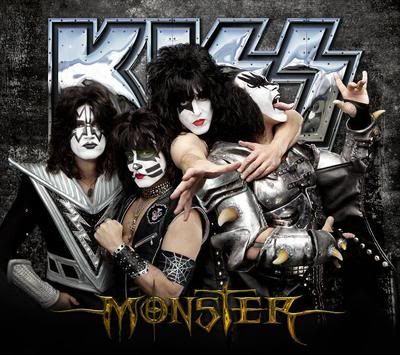 What was Gene on about... a cross between Revenge and Destroyer or something like that? Of course that's hype without barely thinking, and you can never go back, nor would you want to. Do you really think Kiss songs from Dressed To Kill wouldn't sound like Kindergarten right now? Fortunately, Monster isn't any of that. Instead, it's what happens when two dynamic, unique, legendary, signature vocalists (who just can't help but put you an' me in a good mood) meet up with a scholar of a classic rock fan in Tommy Thayer (a maker of great mid-'80s records, but old enough to be an early '80s guy), and a superlative journeyman drummer in Eric Singer, Badlands never to be bested. Both are long-time Kiss members, but more importantly, you get the sense that their '80s and '90s music brains are complementary and catalytic to Paul's and Gene's still goodly songwriting instincts, along with whatever other corporate but wisely tamped collaborations collude to make Monster such a hot rockin' spread of heavy, arena-grade Kiss, start to long-live-the-loud finish. First thing one notices is that the grinding, noisy playing along with the attendant red-line production of the thing make for a more organic and energetic record than the very good Sonic Boom album of three years ago. Impressed with that thing I was, but it's positively tame compared to the wall of sound (er, sorry, there's even a song called that) that is Monster. I mean, 'The Devil Is Me' is a cymbal-crashed party, and 'Back To The Stone Age' is the sermonizing of 'Let There Be Rock' crossed with 'Kick Out The Jams' and even the New York punk metal of The Dictators, who Kiss finally make that natural link with. Elsewhere, there is indeed that slake and draw from original Kiss, that synthesis between UK glam and Kiss' own boogie-based contribution to glam. In this realm, there's storied Kiss-proud cowbell party metal like 'Outta This World', 'Eat Your Heart Out' and 'All For The Love Of Rock & Roll, (which sounds enough like the old Tuff Darts song of the same name to make one wonder if they know it). Then there's 'Freak' and 'Last Chance', where those chromium melodies collide with songwriting and arranging that is more complicated than at first glance. And man, adding to this inspired vibe of loomed large integrity, is the fact that Gene's bass is often buzzed to Lemmy proportions and Steve Harris volumes, as evidenced on 'Shot Mercy', one the album's smartest tracks, one that brings the bar-room clang of, well, at least party-grade Motorhead, thanks to a kick-ass rhythm track from Eric and Gene. The theme falling out of Monster is a surprising and noble one. Nay, never expected to have Gene pick and then try sell the vibe for us, but I'm glad it's even better than his load of it. Not Revenge or Destroyer or anything, Monster in fact sounds like the under-rated and snarling Carnival Of Souls crossed with The Dictators' Bloodbrothers, the self-titled New York Dolls, Get Your Wings from Aerosmith, and Sonic Boom by these four wily rockers that know how to throw a party.
Monster tracklisting:
'Hell Or Hallelujah'
'Wall Of Sound'
'Freak'
'Back To The Stone Age'
'Shout Mercy'
'Long Way Down'
'Eat Your Heart Out'
'The Devil Is Me'
'Outta This World'
'All For The Love Of Rock & Roll'
'Take Me Down Below'
'Last Chance'
'Right Here Right Now'
KISS are streaming the new songs 'Long Way Down' and 'All For The Love Of Rock & Roll' below:
30-second clips from all songs are now available to sample at iTunes.