KISS - Paul Stanley's Appearance On ABC's Nightline Moved To Tonight
January 10, 2012, 5 years ago
KISS singer/guitarist Paul Stanley was scheduled to appear on ABC's Nightline on January 9th. Paul's segment has been moved and will air tonight, Tuesday, January 10th.
After preaching the gospel of rock and roll for almost 40 years, the legendary KISS frontman was ready for a surgical tune up and had surgery October 26th to "tweak" blood vessels in his vocal cords. In the new segment Paul shares his thoughts with ABC's Nightline.
KISS' Gene Simmons issued the following update recently: "KISS studio album (Monster) is done. Great job by Paul producing. Tommy (Thayer) and Eric (Singer) = really kicked it up a notch. Without overstating the obvious, when you hear the album, every single track rocks. No ballads. No outside writers. No keyboards. No children's choirs. No nothin'. Just meat and potatoes."
Paul Stanley says they will begin mixing Monster (this) week. He revealed a few new song titles from the upcoming Monster to Classic Rock magazine. They include:
'Shout Mercy'
'Out Of This World'
'Wall Of Sound'
'Hell Or Hallelujah'
'It's A Long Way Down'
'Back To The Stone Age'
"I wasn't interested in making an album unless I was in charge and no one agreed to it half-heartedly," says the singer and guitarist, taking a break from co-producing the record at Conway Studios in Hollywood. "The band's all there, all the time, and we cut the tracks all facing each other in the same room. Chemistry and camaraderie, that's essential. That's what made Sonic Boom so great, and this album is thunderously better."
Check out Stanley's commentary at this location.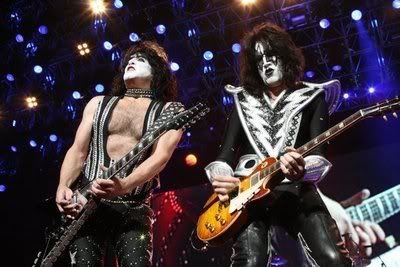 BraveWords.com sources can confirm early reports indicate that KISS and MÖTLEY CRÜE will join forces for an extensive tour in fall 2012. It's expected that Mötley Crüe will support KISS on this trek. Stay tuned for complete details.
The 35th anniversary deluxe edition of the classic KISS album Destroyer will be released as a two-CD set on February 27th in Europe and 28th in North America. The album was remixed late last year by original producer Bob Ezrin (ALICE COOPER) and will feature long sought after outtakes and the original cover art.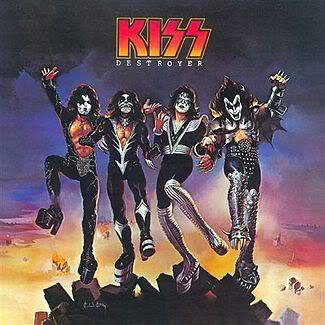 Destroyer was released on March 15, 1976 and peaked at #4 in Sweden, #6 in Austria and Canada and #11 in the US. The album is certified double-platinum (two million units) in the US.
BraveWords.com's Mitch Lafon summarizes: "Bob Ezrin meets KISS and adds Dick Wagner and Steve Hunter to the mix. Ezrin is a visionary producer who can put the theatrics of the stage onto vinyl and he did it brilliantly with the band. The band gave up the simple 'I love you baby' type lyric for more thought out and grandiose lyrics and music. Ezrin makes Beth believable, makes 'God Of Thunder' roar and 'Detroit Rock City' come alive. KISS become larger than life."
Destroyer featured the classic KISS line-up:
Paul Stanley – rhythm guitar, vocals
Gene Simmons – bass guitar, vocals
Ace Frehley – lead guitar, backing vocals
Peter Criss – drums, percussion, vocals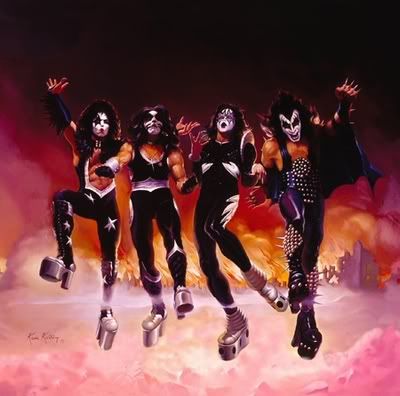 Ken Kelly's original version of the album cover for Destroyer (above) was rejected by the record company because they felt the scene was too violent looking with the rubble and flames. Also, the original version had the members of KISS wearing the Alive costumes.