LAMB OF GOD - 'Desolation' Track Streaming Online
January 3, 2012, 8 years ago
Gearing up for the release of their new album, Resolution, Virginia metallers LAMB OF GOD's new track, 'Desolation', can be heard streaming in the YouTube clip below:
Lamb Of God recently posted a new video featuring snippets of songs from the album. Check out the video at this location (restricted to some territories).
The video for the track 'Ghost Walking' can be seen below:
Resolution will be released on January 24th. Pre-orders can be placed below:
Resolution tracklisting is as follows:
'Straight For The Sun'
'Desolation'
'Ghost Walking'
'Guilty'
'The Undertow'
'The Number Six'
'Barbarosa'
'Invictus'
'Cheated'
'Insurrection'
'Terminally Unique'
'To The End'
'Visitation'
'King Me'
Check out a video trailer below:
RESOLUTION 1.24.12 from Lamb of God on Vimeo.
Korea's thrash metal quartet MAHATMA will support Lamb Of God on their first-ever Korean show on February 12th at AX Hall in Seoul.
The band's second album, Perseverance, was released in the Europe on 2008 through Listenable Records. Mahatma is inching closer to revealing details about its third studio album, which is now in the writing process.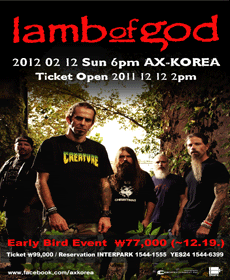 For tickets to Lamb Of God's Seoul show visit this location (early bird discount tickets available now).
Already confirmed to perform five shows as part of Soundwave 2012 - Australia's travelling festival that runs February 25th to March 5th - Lamb Of God have announced a couple of side concert dates in Brisbane and Canberra, Australia.
Australia will be one of the first places that Lamb of God play in support of their seventh studio album, entitled Resolution which is due for release in late January.
For the shows, the band are joined by IN FLAMES and death-metal quintet THE BLACK DAHLIA MURDER.
Lamb Of God, In Flames and The Black Dahlia Murder dates:
February
28 - Eaton Hill Hotel, Brisbane, Australia
March
1 – UC Refectory, Cenberra, Australia
Tickets are on sale now.