LEAVES' EYES Announce Special Show At Wacken Open Air
July 25, 2012, 7 years ago
LEAVES' EYES have announced a special show at this year's Wacken Open Air, set for August 2nd - 4th in Wacken, Germany. The amazing Viking Battleship is setting sail to go ashore directly on the stage, so expect an epic show with a breathtaking stage decoration and quite a few surprises.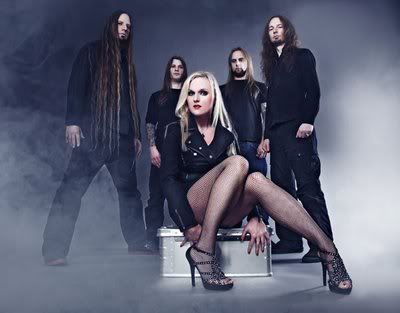 Liv Kristine comments: "I can't wait to play in Wacken again, our Viking ship heading northwards to make a fantastic show for you! Wacken has always been and will always be an amazing, unforgettable experience to me; the loud, crazy audience from all over the planet, the first-class Wacken crew, and all those memories that goes under you skin. Thank you, Wacken, for having us!"
Alex Krull adds: "We are proud to be back with our Viking ship at Wacken and play for our friends and fans at the biggest Metal Open Air worldwide! There has always been a special connection between our bands and our friends at Wacken! See you under the Northern flag, my friends!"
The running order for this year's festival, including set times, can now be found at this location.
Confirmed acts for the sold-out Wacken Open Air 2012 include: AGRO, AMARANTHE, AMON AMARTH, AURA NOIR, BETONTODBLAAS OF GLORY, THE BLACK DAHLIA MURDER, BOSSHOSS, JIM BREUER, BROILERS, BUGGIRL, CHANNEL ZERO, CHTHONIC, CIRCLE II CIRCLE with Chris Caffery, CORONER, CRADLE OF FILTH, CRIMES OF PASSION, D-A-D, DARKEST HOUR, DARK FUNERAL, DEAD BY APRIL, DELAIN, DIE BAND DES JAHRES, DIMMU BORGIR (with orchestra), DIO DISCIPLES, DJERV, DODHEIMSGARD, D.R.I., ELECTRIC WIZARD, EISENHERZ, ENDSTILLE, ESCHENBACH, FORBIDDEN, GAMMA RAY, GEHENNA, GHOST BRIGADE, GRAVEYARD, HAMMERCULT, HAMMERFALL, IN EXTREMO, IN FLAMES, INSOMNIUM, DANKO JONES, KAMELOT, KOBRA AND THE LOTUS, LEAVES' EYES, LENINGRAD COWBOYS, MACHINE HEAD, MANIMALS, MANTICORA, MASSACRE, MEGAHERZ, MINISTRY, MONO INC., MOONSPELL (with orchestra), NAPALM DEATH, NASUM, OPETH, OVERKILL, PARADISE LOST, AXEL RUDI PELL, RED FANG, RIOTGOD, HENRY ROLLINS (spoken work engagement), RUSSKAJA, SACRED REICH, SANCTUARY, SATURNIAN, SAXON, SCHANDMAUL, SCORPIONS, SEPULTURA, SICK OF IT ALL, SIX FEET UNDER, SUFFOCATED, SUICIDE SILENCE, SYLOSIS, TESTAMENT, TORFROCK, U.D.O. (Birthday Party), UNEARTH, VICTIMS OF MADNESS, VOGELFREY, VOLBEAT, VOLXROCK, WARBRINGER, WARRIOR SOUL, WATAIN, WE BUTTER THE BREAD WITH BUTTER, WINTERFYLLETH, WÖLLI, YAKSA.
For more info visit Wacken.com.