Lion Music Signs NO GRAVITY And BOREALIS
January 31, 2011, 8 years ago
Lion Music has announced the addition of two new bands to their roster: Italy's NO GRAVITY and Canada's BOREALIS.
No Gravity are a new progressive metal band from guitarist Simone Fiorletta (MOONLIGHT COMEDY) who see the release of their debut album, Worlds In Collision, on March 18th.
No Gravity was born when Fiorletta developed ideas with the intention of producing an album with the best singers from the prog power world in a single package.
With a line up of vocalists including: Michele Luppi (KILLING TOUCH), Andy Kuntz (VANDEN PLAS), Fabio Lione (RHAPSODY OF FIRE, VISION DIVINIE), Roberto Tiranti (LABYRINTH), Mark Basile (DGM) and Emiliano Germani (Moonlight Comedy) the debut album, Worlds In Collision, certainly lives up to the promise of Fiorletta's original vision.
No Gravity is completed by an equally skilled band in second guitarist Davide Perruzza, keyboardist Andrea De Paoli, bassist Andrea Casali and drummer Marco Aiello.
All music for the debut was composed by Simone Fiorletta whose main emphasis was to produce strong songs, whilst lyrics and vocal melody lines were written by each track's respective singer.
Visit the official No Gravity MySpace page for more info.
Switching gears, Canadian power metallers Borealis will release their new album, Fall From Grace, on May 20th.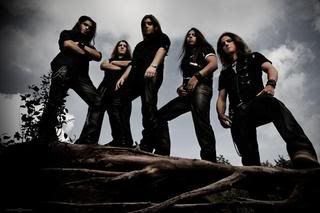 With soaring vocals, lightning fast guitars and a rock solid backline, Borealis is bringing leather back, and dragging power metal up with it. It's been that way from the start for these Canadian guys: all or nothing, and it shows in their music.
Musically Borealis leans towards the classic power metal sound, not too far removed from bands such as EVERGREY or even SAVATAGE in their prime, but also the more progressive bands like Vanden Plas or DREAM THEATER springs to mind here and there. It's all about energy, aggression, melodies and finesse - and Borealis has it all in spades.
With an independently released debut safely in the bag, the band took it upon themselves to give ProgPower USA one heck of a kick-start when they visited the world famous festival in September of 2010, and with a 45 minute set comprised of songs from both the upcoming disc, Fall From Grace, as well as the debut, made sure all 1100 people in attendance would leave with a positive memory of Borealis.
Visit the official Borealis MySpace page for further details.