LIV KRISTINE On New Solo Album - "The Best Feedback I've Had In My 20 Year Career"
November 21, 2012, 6 years ago
Vocalist LIV KRISTINE (LEAVES' EYES) is featured in a new interview with FemmeMetal.net discussing her new solo album, Libertine. An excerpt is available below:
FM: How is the feedback for this new record?
Liv: "The feedback from the press and fans for Libertine has been absolutely amazing, world-wide, actually the best ones I've ever had so far in my 20-years long career. I am so grateful for this, I am very moved. My inner voice tells me that I need to go on tour and play these songs live as soon as possible!"
FM: Libertine is a fresh and a direct record and, under some points of view, it reminds some resonances of THEATRE OF TRAGEDY's masterpieces like Aegis and Musique in songs like 'Paris Paris' or 'Solve Me'. Was the choice purely accidental or was it something that you wanted to do?
Liv: "Libertine, as you correctly pointed out, is an album going back to the roots, to my years with Theatre of Tragedy. During my solo concert in German last December, I just felt that the time had come to let in all the experience I gathered during my years with Theatre of Tragedy, moreover, to forgive my ex-band members and their fatal decision in 2003 to exclude me from the band. In Nagold I played the demo version of the more heavy rocker 'Libertine' just to see how the audience react on it. There and then I understood that this is the right way to go. My fans showed me the way. I have to tell you that I feel truly privileged. First of all I am grateful to my fans and friends for giving me all this respect, love and good energy, some of them following me since my ex-band Theatre of Tragedy came into existence about 17-18 years ago. My fans have granted me this freedom I appreciate so much. Through both Leaves' Eyes and my solo project I am able to live out my musical instinct."
Go to this location for the complete interview.
Liv recently announced her first solo show for her new album, Libertine, on December 22nd in Nagold, Germany at Alte Seminarturnhalle. A new show has been confirmed for December 20th in Pratteln, Switzerland and Gallery. Ticket information can be found here.
Liv's solo tour will feature a Best Of set including songs from Libertine and Theatre of Tragedy songs .
Libertine hit stores in North America on September 18th. The first video from the album for the track 'Paris Paris' - shot in Gothenburg, Sweden with Patric Ullaeus / Revolver Film Company AB - is available below.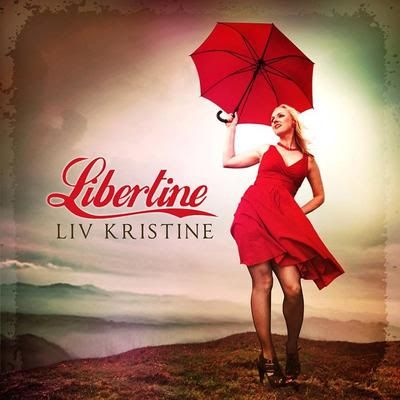 Libertine tracklist:
'Interlude (Intro)'
'Solve Me'
'Silence'
'Vanilla Skin Delight' (Duet With Tobias Regner)
'Panic'
'Paris Paris'
'Wait For Rain'
'Love Crime'
'Libertine'
'Meet Me In The Red Sky'
'The Man With A Child In His Eyes' (KATE BUSH Cover)
About the album Kristine recently commented: "Libertine is truly a milestone in my career; it sums up my most important artistic experiences in my creative journey through life.The more rock and metal-based songs like 'Vanilla Skin Delight' (incl. superb male vocals from Tobias Regner), 'Paris Paris', 'Solve Me' and title track 'Libertine' certainly expose some of those magic moments which fans of Theatre of Tragedy enjoyed and treasured on Aegis and Musique. The ballads 'Silence', 'Love Crime' and 'Meet Me in the Red Sky' will go straight into you hearts, each of them being absolute individual in their emotional expressions and musical compositions. Alex (Krull; ATROCITY, Leaves' Eyes) gave each track a perfect sound in the mix by emphasizing on each song's characteristic accent and atmosphere. I can't wait to let you hear this album; it is exceptional to me both personally and in my artistic career, and I can't wait to play these songs for you live! The cover- and booklet artwork is completed as well. It took a while for me, personally, to find the artistic expression I wished to expose in my pictures, however, Heile and Alex guided me into the right direction, for which I am so happy and grateful."