LIV KRISTINE Records Guest Vocals For ROMANTHICA, EMERALD SUN
April 6, 2012, 5 years ago
LEAVES' EYES vocalist LIV KRISTINE IS "in the middle of recording my guest vocals for my friends in ROMANTHICA. My first time singing in Spanish. The ballad is titled 'Despierta'. Beautiful!"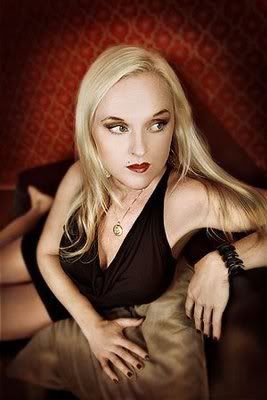 Kristine also has "news for all fans of EMERALD SUN, our Greek metal friends: a duet will come up soon. A fantastic acoustic tune!"
And in regard to her own forthcoming solo album, Liv states, "piano (by Alessandro) and cello (by Christoph) have been recorded for my album! Moreover, the male guest vocals for 'Vanilla Skin Delight' are done, too (more info later...). Thank you so much all of you for being my guests, I am blessed to have you on my album."
In live news, Liv Kristine will return to the stage with Leaves' Eyes on April 28th in Ottweiler, Germany at Hexentanz Festival. The band's complete tour schedule is available at this location.