LIV KRISTINE To Shoot 'Paris Paris' Video In Gothenburg
September 4, 2012, 6 years ago
Vocalist LIV KRISTINE (LEAVES' EYES) is gearing up for the release of her new solo album, Libertine, which will hit stores in North America on September 18th and in Europe on September 5th.
An update from Liv states: "I'm on my way to Gothenburg via Paris to shoot my new video clip, 'Paris Paris', together with Patric Ullaeus and Revolver team. The video clip will be published on September 18th, to celebrate the US / Canada street date of my new album, Libertine! Looking forward to working again with Patric and his team!"
Liv recently issued a new album trailer, which can be seen below:
A previous update from Live states: "Here's the teaser of the track 'Silence' for you! It was composed in one night. Initially there was this very interesting piano tune, by which the song begins, which really made my musical heart fall in love immediately. It is, to be honest, one of the most interesting compositions I've been part of. Moreover, it was truly emotional to record it because this song tells my own story. The way it builds up in its structure and emotional expression is quite unusual, too. It was recorded in one complete take to optimize the emotional effect. Thematically the song is strongly bound to a certain state of being: I imagine 'silence' to be that comforting feeling which takes you deeper into your soul-life where you face your emotions, thoughts, dreams and past experiences. 'Silence in the deep' conveys both the feeling of freedom when floating under water, hearing your heart beat, your own breath, and also the wish to be in balance with yourself, knowing who you are and what life is worth. My inspiration comes from the sound of water, which is especially dear to me since I grew up by the sea. I hope you find your own 'silence' in this song."
Check the track out here.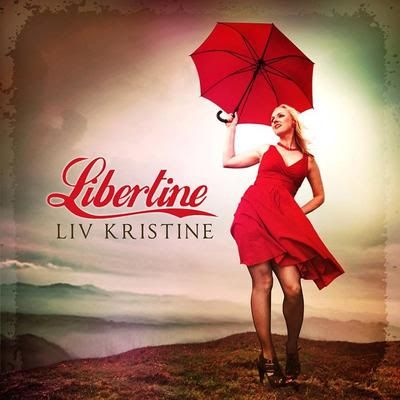 Libertine tracklist:
'Interlude (Intro)'
'Solve Me'
'Silence'
'Vanilla Skin Delight' (Duet With Tobias Regner)
'Panic'
'Paris Paris'
'Wait For Rain'
'Love Crime'
'Libertine'
'Meet Me In The Red Sky'
'The Man With A Child In His Eyes' (KATE BUSH Cover)
About the album Kristine recently commented: "Libertine is truly a milestone in my career; it sums up my most important artistic experiences in my creative journey through life.The more rock and metal-based songs like 'Vanilla Skin Delight' (incl. superb male vocals from Tobias Regner), 'Paris Paris', 'Solve Me' and title track 'Libertine' certainly expose some of those magic moments which fans of THREATRE OF TRAGEDY enjoyed and treasured on Aegis and Musique. The ballads 'Silence', 'Love Crime' and 'Meet Me in the Red Sky' will go straight into you hearts, each of them being absolute individual in their emotional expressions and musical compositions. Alex (Krull; ATROCITY, Leaves' Eyes) gave each track a perfect sound in the mix by emphasizing on each song's characteristic accent and atmosphere. I can't wait to let you hear this album; it is exceptional to me both personally and in my artistic career, and I can't wait to play these songs for you live! The cover- and booklet artwork is completed as well. It took a while for me, personally, to find the artistic expression I wished to expose in my pictures, however, Heile and Alex guided me into the right direction, for which I am so happy and grateful."
Kristine has announced two acoustic release show in support of the new album. The dates can be seen below:
September
7 - Stuttgart, Germany - Café Stella
8 - Marbach am Neckar, Germany - Café Provinz