Live Evil Festival Announces Volume One LP Release Featuring ANGEL WITCH And Others; 2011 Festival Date Confirmed With AURA NOIR, IN SOLITUDE And More
April 21, 2011, 9 years ago
As the second Live Evil Festival is announced for October 22nd - 23rd with AURA NOIR, IN SOLITUDE and many more killer bands to come, an official LP is set to hit the shelves in June.
Live Evil Volume One will be available on 2x12" vinyl on June 6th via Less Music.
Live Evil Festival is the brainchild of heavy metal booking agent Mark Lewis who runs the Mythology Agency and metal promoter Marek Steven (aka Skill Wizard). Lewis approached Steven in 2009 with the idea of using DARKTHRONE's insightful and witty Band Of The Week selections as inspiration for the ultimate music-focused underground metal festival. It was a simple, brilliant idea, born out of fierce passion for the international metal scene.
Bands Of The Week is run by Darkthrone founding member, drummer and metal legend Fenriz Nagell. Fenriz has always had a broad and refined taste in rock and metal and priding himself of the wealth of time spent listening to music, new and old. In a music scene awash with posers and frauds he sets an example of integrity, focusing solely on what he deems of up most importance, the music!
Eighteen 'Bands Of The Week' agreed to play and travelled from all over the world for the inaugural Live Evil Festival, which took place at the ever-suitable London venue The Underworld, in October 2010. Preceded by an insane, free pre-party in East London and followed by a rammed heavy metal after-party at The Hobgoblin in Camden. The event was a huge success with people coming from all over Europe to pack out The Underworld. The atmosphere in the crowd and between all the bands was tangible, with and all the bands delivering killer sets. A one off fanzine was also created, to mark the occasion.
Highlights of the festival could be Saturday's mass sing-a-long for brilliant headliners UK metal legends ANGEL WITCH (their first gig with NAPALM DEATH and CARCASS guitarist Bill Steer on second guitar), plus the evil power of the second ever live show by the theatrical Swedish occult rock phenomena GHOST. A brutal but emotional finale was delivered by the first ever UK performance by early '80s Brazilian thrash metal legends VULCANO. Young bands like DEATHHAMMER, NEKROMANTHEON and NATUR destroyed the crowd and look set to help lead the metal over the next 10 years.
To mark the event on wax, Live Evil has teamed up with the esoteric imprint of East London based label, This Is Music's Less Music to create a limited (500 numbered copies) heavyweight double LP vinyl compilation featuring most of the acts that played the over festival. Fourteen exclusive, rare (or just plain kick-ass) tracks from the bands that played.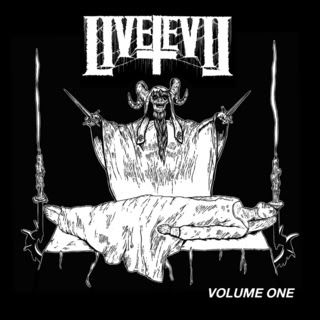 Live Evil Volume One tracklisting:
ANGEL WITCH – 'Baphomet' (Live)
NEKROMANTHEON – 'Divinity Of Death'
NATUR – 'Goblin Shark'
OCCVITA – 'Blood Messiah'
HOODED MENACE – 'I, Devil Master'
SPEEDTRAP – 'Out For Your Blood'
OBLITERATION – 'Catacombs Of Horror'
GHOST – 'Death Knell'
KORGULL THE EXTERMINATOR – 'Los Cavallers Ronyosos'
SALUTE – 'Calcutta's Bones'
VULCANO – 'Dominos Of Death'
SONIC RITUAL – 'Dark World Deceiver'
GRAVE DESECRATOR – 'Deformed Angel's Anus'
DISKORD – 'Cease Of Existence'
The double LP will be available from good retailers and direct from the organisers at this location.