LIZZY BORDEN Added To 70000 Tons Of Metal 2013
January 8, 2013, 4 years ago
LIZZY BORDEN is the latest act confirmed for 70000 Tons Of Metal. The band will perform their brand new 30th anniversary show, 30 Years Of American Metal, encompassing songs from each and every record, plus some great surprises.
The World's Biggest Heavy Metal Cruise will sail Monday, January 28, 2013 aboard the Royal Caribbean Majesty Of The Seas from Miami, FL to Cockburn Town on Grand Turk Island, and will not return to the real world for four days until Friday, February 1, 2013.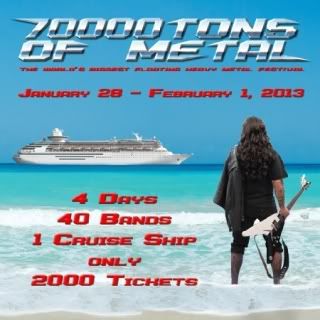 The following 31 out of 40 bands have now been announced:
3 INCHES OF BLOOD, ANACRUSIS, ANGRA, ARKONA, DELAIN, DIE APOKALYPTISCHEN REITER, DORO, DRAGONFORCE, ENSIFERUM, EVERGREY, FLOTSAM AND JETSAM, GOTTHARD, HEIDEVOLK, HELLOWEEN, HELSTAR, IMMOLATION, IN FLAMES, KREATOR, LACUNA COIL, LIZZY BORDEN, METAL CHURCH, NILE, ONSLAUGHT, RAGE and LINGUA MORTIS ORCHESTRA, SABATON, SINISTER, SUBWAY TO SALLY, TIAMAT, TURISAS, TÝR, UNEXPECT.
Ticket prices start at US$666 plus US$299 taxes and fees per person and include all on-board entertainment, non-alcoholic and non-carbonated beverages, all meals at the dining rooms, most on-board restaurants and even 24 hour room service!
What are you waiting for? You might even need a vacation from this vacation when all is said and done! Check out 70000tons.com for more information.