LUCA TURILLI'S RHAPSODY - New Album Artwork Revealed
February 27, 2012, 8 years ago
LUCA TURILLI'S RHAPSODY have unveiled the new cover artwork of the upcoming album Ascending To Infinity, due out on June 29th in Europe via Nuclear Blast (North American release date to be confirmed). The illustration was realized once again by Felipe Machado Franco, also known for his work for bands like BLIND GUARDIAN, RHAPSODY OF FIRE, RAGE and IRON SAVIOR. Check it out below:
An update from Luca Turilli's Rhapsody reads as follows:
"Hi to everybody. We all know that many of you were waiting for the news about our new singer and it is true that his name was supposed to be revealed right today. But as the mix of the album already started and the result of his artistic performance on Ascending To Infinity is simply brilliant, then we decided to not present our singer by simply revealing his name. Instead, with the next news of Tuesday, March 27, we'll present him in the best way possible, the one we know you surely prefer. This means that on that day you will have the possibility to discover him and his talent listening to some excerpts from our new album, exclusively from our new band's
website
."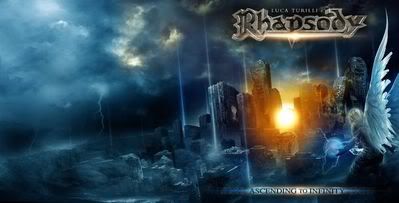 With over 60 minutes of music, the tracklisting to Ascending To Infinity is as follows:
'Quantum X'
'Ascending To Infinity'
'Dante's Inferno'
'Excalibur'
'Tormento E Passione'
'Dark Fate Of Atlantis'
'Fantasia Gotica'
'Clash Of The Titans'
'Of Michael The Archangel And Lucifer's Fall'
I. 'Alma Mundi'
Ii. 'Fatum Mortalis'
Iii.' Ignis Divinus'