LYRAKA Guitarist Andy DiGelsomina On GARY MOORE - "I Can't Count How Many Times I've Been Awed By Gary's Playing, Going Back Over 30 Years Now"
February 6, 2011, 9 years ago
Andy DiGelsomina, composer and lead guitarist of LYRAKA, has issued this statement regarding the passing of guitar legend Gary Moore:
"My tears have flowed, sobs racked through me. Gary Moore was a player that gave me so much enthusiasm for playing. His high degree of aggression, unearthly sense of timing, and volcanic passion was rarely matched in tock guitar history. I can't count how many times I've been awed by Gary's playing, going back over 30 years now. His playing always brought to fore that childlike enthusiasm that first made me pick up guitar. His playing made me feel huge and powerful, and I dreamed of sounding as massive and confident as Gary. For most of my life I referred to him as Scary Gary, because his tone and attack were like a musical Godzilla. Today I call him a much mourned guitar friend, one I deeply regret having never met."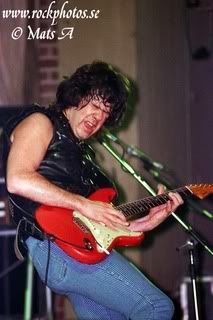 As previously reported, Moore died in a hotel room in Estepona, Spain on February 6th at the age of 58. Reuters says that a postmortem was due to be carried out in the nearby city of Malaga. A Foreign Office (Ministry) spokeswoman in London said: "We are aware (of Moore's death), and we stand ready to provide consular assistance. We are very sorry for his family's loss."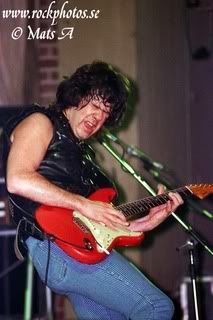 In a career dating back to the 1960s, Moore played with artists including Phil Lynott and Brian Downey as early as his secondary school days, leading him to membership with the Irish rock band THIN LIZZY on three separate occasions. Moore shared the stage with such blues and rock luminaries as B.B. KING, ALBERT KING, COLOSSEUM II, GREG LAKE and SKID ROW (not to be confused with the glam metal band of the same name), as well as having a successful solo career.
Moore collaborated with a broad range of artists including GEORGE HARRISON, TRILOK GURTU, DR. STRANGELY STRANGE, COLOSSEUM II, ALBERT COLLINS, JIMMY NAIL, MO FOSTER, GINGER BAKER, JACK BRUCE, JIM CAPALDI, VICKI BROWN, COZY POWELL, THE BEACH BOYS, OZZY OSBOURNE and ANDREW LLOYD WEBBER on the composer's Variations (album) in 1977. He experimented with many musical genres, including rock, jazz, blues, country, electric blues, hard rock and heavy metal, according to Wikipedia.