MACHINAGE Confirmed For Pre-Fest Showcase Of Warriors Of Metal Fest VI Open Air
February 1, 2013, 4 years ago
The Brazilian thrash metal band, MACHINAGE has been added to the roster of the Pre-Fest Showcase of the Warriors Of Metal Fest VI Open Air to perform a special set with special guest, Curran Murphy (SHATTER MESSIAH, ex-NEVERMORE, ANNIHILATOR) on Thursday night, June 27th at The Shrunken Head Rock Club in Columbus, Ohio.
Fabio Delibo, guitarist and vocalist states: "Machinage is very proud to announce that we will be back in the US this year for another tour and better than that we will be playing again at one of the greatest events we have been involved with in our resent history, the Warriors Of Metal Fest Open Air! We would like to thank all the support bands of the Pre-Fest Showcase for sacrificing 5 minutes of their playing time so that we can be added to their lineup. Furthermore, we couldn't be happier to say we will for the first time play an entire set of all new materials from our upcoming 2nd album with the ex-Annihilator, ex-Nevermore guitarist, founder of the Ohio Power Thrash Metal band Shatter Messiah, and the producer of our sophomore record, Curran Murphy, Only at the Pre-Fest Showcase of the Warriors Of Metal Fest VI Open Air. Last year we had an unforgettable live jam session with Nuclear Assault's John Connelly while on tour in Queens, New York and this year we'll play a whole set with Curran Murphy....WOW!!! Here is our 2012 Tour Video Blog with the Live footage of that night in Queens. Enjoy!"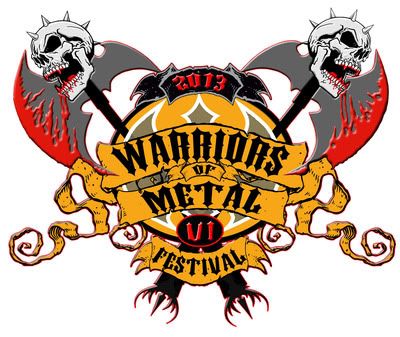 Confirmed acts:
Warriors Of Metal Fest VI Open Air Pre-Fest Showcase: FIAKRA, FLESH ENGINE, LADY BEAST, MACHINAGE, MISTRESS NOBLE BEAST, SHALLOW GROUND, VALHALLA, VINDICATOR.
Warriors Of Metal Fest VI Open Air taking place on June 28th - 29th at the Frontier Ranch in Pataskala, Ohio: ALAS NEGRAS, AMADIS, ATTACKER, AXENSTAR, BRAZEN ANGEL, DANTESCO, DAWN OF VALOR, EDEN'S FALL, FLOTSAM AND JETSAM, IRON WILL, MELIAH RAGE, POWER THEORY, RAVAGE, SEAX, SKULL HAMMER, SOLVO ANIMUS, SONIC PULSE, STEEL ASSASSIN, TWISTED TOWER DIRE, VACANT THRONE, VOLTAX, WULFHOOK.
Stay tuned for further festival details at this location.