MAIDEN UNITED - Acoustic Tribute To IRON MAIDEN To Release Debut Album In December; Members Of THRESHOLD, WITHIN TEMPTATION, THE GATHERING Featured
October 13, 2010, 10 years ago
MAIDEN UNITED, an acoustic tribute to legendary British metallers IRON MAIDEN, is a project which Joey Bruers (UP THE IRONS) started for the Dutch Iron Maiden fan club convention in 2006. They asked for something other than the regular tribute or cover band, which resulted in this project.
"The project is called Maiden uniteD, because we hope to bring all kinds of musicians and fans from all over the world together to celebrate the music that has already united us for over three decades."
Mind The Acoustic Pieces is the first release form this project, and will be released on December 9th. An acoustic version of Piece Of Mind with new arrangements and played by an impressive ensemble:
Mike Coolen - drums (SILKSTONE)
Ruud Jolie - guitar (WITHIN TEMPTATION)
Marco Kuypers - piano (Silkstone)
Damian Wilson - vocals (THRESHOLD, ARYEON)
Joey Bruers - bass (Up The Irons)
Anneke van Giersbergen - vocals (THE GATHERING)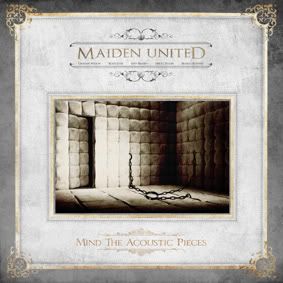 Mind The Acoustic Pieces tracklisting:
'Where Eagles Dare'
'Revelations'
'Flight Of Icarus'
'Die With Your Boots On'
'The Trooper'
'Still Life '
'Quest For Fire'
'Sun And Steel'
'To Tame A Land' (duet with Anneke van Giersbergen)
The pre-sale starts October 20th. Click here for more information.
Prior to the album's release, a single for 'The Trooper' will be released in November. The single will include the album version of 'The Trooper, as well as 'Sun And Steel', performed by Anneke van Giersbergen.
The album will be accompanied by a European tour that starts in December. More on Maiden United at this location.