MARK BOALS Joins LYRAKA Line-Up
June 19, 2011, 7 years ago
Renown neo-classical rock vocalist Mark Boals (YNGWIE MALMSTEEN, ULI JON ROTH, ROYAL HUNT) has confirmed his involvement in the recording of Lyraka Volume 2, the second offering from the Wagnerian opera metal project, LYRAKA.
The composer and lead guitarist of the project, Andy DiGelsomina, has issued this statement: "The Lyraka vocal line-up has been finalized, here is how the singers will appear in the respective songs:
'Volcano' is a duet I have written for Graham Bonnet and Veronica Freeman. It is a very heavy and dissonant track, with an involved chorale section inspired by the music of Béla Bartók. The lyrics explore the concept of Will, and were inspired by the philosophies of Arthur Schopenhauer and Friedrich Nietzsche.
'Lyraka (On Dragon's Wings)' is a pop-py, upbeat track written for Graham Bonnet, who will be contributing to the songwriting. It's very catchy and driving, and we hope to inspire people with this composition's positive message.
'Defender Of The Faith' is song I've written for Mark Boals, a metal epic detailing the existential angst experienced by the character Locke, who is the head of Lyraka's palace guard. The lyrics were inspired by the crisis experienced by the character Wotan in Richard Wagner's epic opera 'Die Walküre'.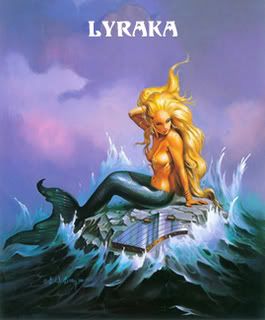 'Lilliput' is a thrashy song about the desert queen of Errandia, sung by ULI JON ROTH's resident vocalist extraordinaire Liz Vandall. This track will blend in different styles of metal and rock with some Arabian orchestration and atmosphere.
'Father' is the album's mega-epic, sung by Graham Bonnet (RAINBOW, MSG, ALCATRAZZ) as the character Neires, and Liz Vandall as Lilliput. It features massive, Götterdämmerung-ian orchestration and various vocal stylings. The song is constructed like a symphony, with several movements within. One movement, or song within the song, will be the track 'Semmonet' which is sung by Al Atkins (founder of JUDAS PRIEST). 'Semmonet' is a banging blues-metal track at base, but with several other musical genres interwoven to add dimensions to the character.
'Abyss' is a song I've written for Rob Diaz of the Chilean band Vastator. It is musically related to black metal, but of course with that typically Lyrakan classic metal base, and features plenty of crazy guitar. Lyrically the song is influenced by the philosophy of Danish philosopher Søren Kierkegaard."
The CD Lyraka Volume 2 is set for release in early June 2012.
For more info visit Lyraka.com.