MEGADETH - New TH1RT3EN Song Streaming
October 16, 2011, 8 years ago
Another new MEGADETH song called 'Whose Life (Is It Anyways?)' aired on the Full Metal Jackie radio show this weekend. Check it out below:
Megadeth have announced that their new album, TH1RT3EN will be launched across the UK at 13 rock club album launch events on Halloween weekend. Fans around the UK can hear TH1RT3EN tracks and pick up goodies courtesy of Dean Guitars, EMP-UK and Monster Energy at the following 13 rock club album launch parties taking place on Halloween weekend:
Friday 28th October:
Glasgow, UK - The Cathouse
Liverpool, UK - The Krazy House
Lincoln, UK - Rock Night at Sugarcubes Nightclub
Aberdeen, UK - Friday Rock Night at Korova
London, UK - Voodoo Halloween Fest at Electrowerkz
Bristol, UK - PHUCT at Bierkeller
Southampton, UK - Troublegum at The Dungeon
Saturday, 29th October:
Birmingham, UK - Eddie's Rock Club
Cardiff, UK - Bogiez
Edinburgh, UK - Studio24Rawks
Colchester, UK - The Big Lick at Sky Rooms
Leeds, UK - Rock Of Ages Halloween Special at The Library
Monday 31st October:
Manchester, UK
The band will release their new album TH1RT3EN on October 26th in Japan and on November 1st in North America.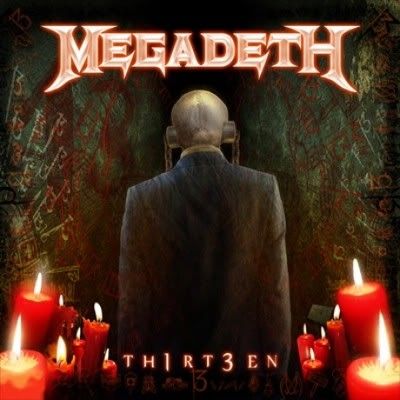 Tracklisting is as follows:
'Sudden Death'
'Public Enemy No. 1'
'Whose Life (Is It Anyways?)'
'We The People'
'Guns, Drugs & Money'
'Never Dead'
'New World Order'
'Fast Lane'
'Black Swan'
'Wrecker'
'Millennium Of The Blind'
'Deadly Nightshade'
'13'
Megadeth recently announced dates for a South American tour.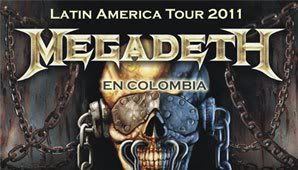 Tour dates are as follows:
November
9 - Buenos Aires, Argentina - Estadio Cubierto Malvinas
10 - Buenos Aires, Argentina - Estadio Cubierto Malvinas
12 - Santiago, Chile - Maquinaria Festival, Club Hipico
14 - Sao Paulo, Brazil - SWU Music & Arts Festival
16 - Mexico City, Mexico - Jose Cuervo Salon
17 - Mexico City, Mexico - Jose Cuervo Salon
19 - Guadalajara, Mexico - H&H; Metal Fest, Calle 2
20 - Monterrey, Mexico - Banamex Auditorium
23 - Bogota, Colombia - Coliseo El Campin
25 - La Paz, Bolivia - Estadio Rafael Mendoza Castellon
27 - Asuncion, Paraguay - Live Ace Arena
29 - Medellin, Colombia - Polideportivo Envigado
December
1 - Heredia, Costa Rica - Rosabal Cordero Stadium