Members Of GUNS N' ROSES, NEW YORK DOLLS To Perform In New York's THE COMPULSIONS In Early January
December 29, 2010, 8 years ago
New York City rock 'n' roll band THE COMPULSIONS have scheduled a live performance at legendary rock club Don Hill's. The Compulsions line up will feature founder and front man Rob Carlyle along with Richard Fortus (GUNS N' ROSES) on guitar, Sami Yaffa (MICHAEL MONROE BAND/NY DOLLS) on bass and Frank Ferrer (Guns N' Roses) on drums. The show will take place Saturday, January 8th at midnight.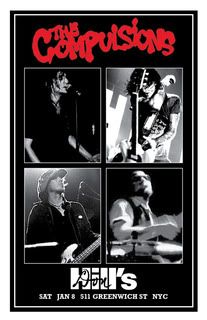 According to Carlyle: "It's been about a year since we performed together because we've all been busy with different projects. But everyone's schedule is finally clear so we figured it was time to do a Compulsions show."
A full-length Compulsions album titled Beat The Devil is also in the works.
"The audience response has been over-the-top and there's an incredible amount of chemistry between me and the guys when we play together so obviously the goal is to raise The Compulsions' profile and keep this thing going as long as possible" adds Carlyle. "Fingers crossed."
Ferrer and Fortus have both appeared on all three Compulsions EPs, Laughter From Below, Demon Love and Been Through Hell. The six-song discs have all received near universal critical acclaim from both the underground and mainstream press.
For more info visit Myspace.com/thecompulsions.