METAL MIKE CHLASCIAK - The Metalworker Song Titles Revealed
February 15, 2012, 8 years ago
Guitarist METAL MIKE CHLASCIAK (HALFORD, PAINMUSEUM) has revealed the song titles for his upcoming solo album, The Metalworker:
'On Leather Wings'
'Don't Shoot The Crown'
'Silence Of The Steel'
'Tonight We Ride'
'We Are The Cross'
'This Is War'
'M Is For Metal'
'Hell No'
'Weight Of The Heart'
The Metalworker features several instrumental tracks along Mike's collaboration with vocal siren Carlos Zema, known for his previous work with Texas underground heroes OUTWORLD.
The album additionally features Kevin Talley (DAATH, CHIMAIRA, HATE ETERNAL) on drums and Mike LePond (SYMPHONY X) on bass.
"I am psyched that The Metalworker is nearing its release. It is a focused, no apologies heavy metal record that features plowing riffs, soaring vocals and wicked double bass for days. Both Kevin and Mike killed it and I'm also very happy to have Carlos on vocals. I'm telling you this guy is a serious powerhouse vocal talent", commented Mike.
Produced by Metal Mike, The Metalworker has been mixed by Orlando Villasenor at Dead Room Studio in San Antonio, TX. Cover art has been provided by DarkMouth Design.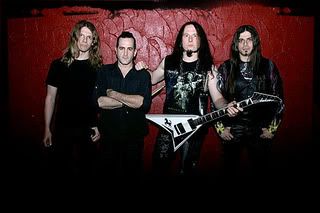 Metal Mike recently re-launched his official website, as well as his official social media sites - Twitter, Facebook and YouTube.
Asked about the launch, Mike commented, "I am really happy to let you all know that the new official site is active. A good artist website can be challenging to put together, but I feel we have assembled a cool place for everyone to get all kinds of information in an easy to get to manner. In addition, I have assembled a great collection of rare photos from the last 12 years and we made things as cohesive and complete as we could. The more popular features from the last site such as the 'Ask Metal Mike' column are also carried over.
The website also features my all new Guitar Tips Blog, where I write in regularly to share info on various topics that range from the law of attraction, how what you eat affects your guitar playing and tone to technical things such as choosing the proper string gauge.
On the social media side, I'd like to thank Keith Tarrier of Tarrier Design, Japan for his additional help. In ending, I simply hope that you guys dig it and with the new launch we will be up-dating often, so come back soon – Horns Up Way High."

In the March edition of Guitar World's Metal For Life column, Metal Mike shows you a smattering of metal riffs in the style of thrash titans METALLICA, TESTAMENT and PANTERA.
The column is called Death To False Metal: A Look At Mega-Licks In The Styles Of Metallica, Testament & Pantera. The March issue of Guitar World is hitting the newsstands now.
"I've designed these riffs to help you build both your pick-and fret-hand technique in regard to executing pure metal ideas like these with power and precision," said Metal Mike.
You can preview Death To False Metal column video below: