METALLICA, SLAYER, MEGADETH, ANTHRAX - Full Packaging Revealed For The Big Four: Live From Sonisphere 2010
September 15, 2010, 8 years ago
The complete packaging design of The Big Four: Live From Sofia, Bulgaria DVD and Blu-ray featuring METALLICA, SLAYER, MEGADETH, ANTHRAX has been revealed.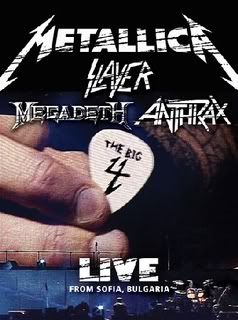 Universal Music will release The Big Four: Live From Sofia, Bulgaria DVD and Blu-ray containing footage of the June 22nd, 2010 Sonisphere cinecast from the Sofia, Bulgaria leg of the touring rock festival featuring the Big Four of 1980s thrash metal - Metallica, Slayer, Megadeth and Anthrax.
The DVD hits the streets on October 15th in Northern Europe, October 18th in most of the rest of the world, October 19th in North America and the full shows from all four bands will be included in the two-disc set along with behind-the-scenes and interview footage.
In addition to the two-DVD set and the corresponding Blu-ray, there will be a limited-edition "super deluxe" box set including the DVD set, five CDs with ALL the music, a 24-page booklet, a poster, photos of each band, and a Big Four guitar pick.
The deluxe set can be pre-ordered in the official Metallica Store and the Universal Store UK, all orders from the official Metallica store will include a limited edition RED Big 4 guitar pick with one of four different print colors (white, black, silver or gold - see below), not available in stores!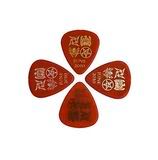 The tracklistings:
ANTHRAX:
'Caught In A Mosh'
'Got the Time'
'Madhouse'
'Be All, End All'
'Antisocial'
'Indians'/'Heaven And Hell'
'Medusa'
'Only'
'Metal Thrashing Mad'
'I Am The Law'
MEGADETH:
'Holy Wars... The Punishment Due'
'Hangar 18'
'Wake Up Dead'
'Head Crusher'
'In My Darkest Hour'
'Skin O' My Teeth'
'A Tout Le Monde'
'Hook In Mouth'
'Trust'
'Sweating Bullets'
'Symphony Of Destruction'
'Peace Sells'/'Holy Wars Reprise'
SLAYER:
'World Painted Blood'
'Jihad'
'War Ensemble'
'Hate Worldwide'
'Seasons In The Abyss'
'Angel of Death'
'Beauty Through Order'
'Disciple'
'Mandatory Suicide'
'Chemical Warfare'
'South of Heaven'
'Raining Blood'
METALLICA:
'Creeping Death'
'For Whom The Bell Tolls'
'Fuel'
'Harvester Of Sorrow'
'Fade To Black'
'That Was Just Your Life'
'Cyanide'
'Sad But True'
'Welcome Home (Sanitarium)'
'All Nightmare Long'
'One'
'Master Of Puppets'
'Blackened'
'Nothing Else Matters'
'Enter Sandman'
Encore:
'Am I Evil?' (with the Big Four)
'Hit The Lights'
'Seek and Destroy'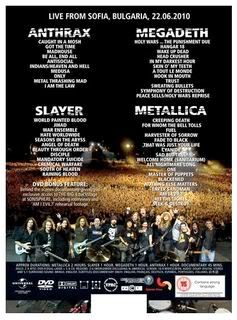 (Thanks: Slayerized.com)