METALLICA's Lars Ulrich - "I'm Beyond Bummed, Saddened And Devastated By News Of The Untimely Passing Of Keyboardist JON LORD"
July 17, 2012, 5 years ago
METALLICA drummer Lars Ulrich has written the following lengthy tribute to former DEEP PURPLE keyboardist JON LORD, who lost his battle with pancreatic cancer at age 71 yesterday, Monday, July 16th, 2012:
"Ever since my father took me to see them in 1973 in Copenhagen, at the impressionable age of 9, Deep Purple has been the most constant, continuous and inspiring musical presence in my life. They have meant more to me than any other band in existence, and have had an enormous part in shaping who I am. So obviously I'm beyond bummed, saddened and devastated by news of the untimely passing of keyboardist Jon Lord.
We can all be guilty of lightly throwing adjectives like "unique," "one-of-a-kind" and "pioneering" around when we want to describe our heroes and the people who've moved us, but there are no more fitting words than those right now and there simply was no musician like Jon Lord in the history of hard rock. Nobody. Period.
There was nobody that played like him. There was nobody that sounded like him. There was nobody that wrote like him. There was nobody that looked like him. There was nobody more articulate, gentlemanly, warm, or fucking cooler that ever played keyboards or got anywhere near a keyboard. What he did was all his own. Including obviously his unique sound. Whatever it was he did with that Hammond organ, the way the Leslie distorted what he was playing and pushed it to some unheard of place, the way he attacked it while he was throwing it around, and whatever the fuck else it was that was going down between Jon and "The Beast", as he called his organ, it was unlike anything before, during or after. That simple.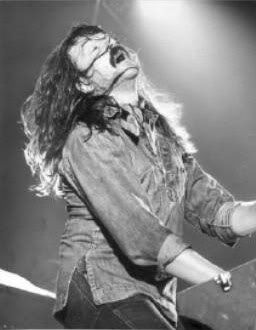 Deep Purple of course was also an entity all their own, always unpredictable, often impulsive, never repetitive and most of the time, other worldly. I had the good fortune of seeing them three times in Copenhagen between '73 and '75, numerous times again on the reunion runs in '85 and '87. We even played a couple of gigs in Germany with them in the summer of '87 and needless to say, every time was an experience that had a major impact on me. Seeing Jon on stage right playing the riffs, the colorings, the textures, the next level solos, intros, outros, blues bits, classical pieces and whatever else came into his head each night AND on top of that keeping up with Ritchie Blackmore song after song, night after night, was the sign of the master of his craft . . . the most accomplished, original and unique hard rock keyboardist that ever walked this planet.
In 1992 when we played Munich on the Black Album tour, Jon Lord and lead singer, Ian Gillan came down to the show and stood in the snake pit the whole time. I was in heaven. Performing in front of members of the band that had meant more to me than anything in my life was a dream come true. And when I got a signed note after the show that they had had to leave and get back to their milk and cookies and be ready for the recording sessions the next day, I was simply beyond psyched. My hero(es) in the fuckin snake pit.!!!!! "Look Mom, on top of the fuckin world!!"

....Full circle for the impressionable 9 year old from KB Hallen in Copenhagen in February '73.
Rest in peace Jon and THANK YOU for everything."