MICHAEL SCHENKER On The SCORPIONS Farewell Tour - "Uli Jon Roth And Myself Will Join Them At Some Point On The Tour To Kind Of Give It A Good, Happy Ending"
October 22, 2011, 3 years ago
Guitar legend MICHAEL SCHENKER (MSG, ex-UFO) is featured in a new interview with Ultimate-Guitar.com. An excerpt is available below: UG: How do you think your playing style has evolved over the course of your career? Schenker: "It has been a long period of development for me. The principles more or less have stayed the same but I have had lots of different solos. For example, when I started with the SCORPIONS the first album I did with the group, I was fifteen years old, Lonesome Crow. I started playing when I was nine and was picking stuff off the radio and a tape recorder and anything on the charts. But when I was eleven years old, my brother asked me to join the band, which was the beginning of The Scorpions. Then I went to another band and kept developing my style but really, but the most amazing thing that happened to me was when I heard distortion guitar for the first time from players such as JEFF BECK and JIMMY PAGE. Then I reached a stage where I just wanted to go into the studio and play just improvised lead breaks. So as I began to work on projects, I just went straight to tape as I was playing on the spot, and played one song after another until the whole album was done. So in general my early approach was; with slow solos with harmony I would write them while with fast rock solos, I would improvise them, but I would also improvise slow solos too occasionally. After forty years I now have different approaches to things that basically today, I have come full circle and am at the point where I feel I am exactly where I was when I was sixteen, where I had huge waves of development in a major way happening. So now I'm playing at my best in the same way as was when I was playing with UFO." UG: With The Scorpions planning a retirement, are there any plans to collaborate musically with your brother Rudolf? Schenker: "We have been talking about doing a Schenker project for quite awhile now and you know whenever the time is right, for these kinds of things, we'll do it. But they are working on doing the ultimate and final farewell tour where Uli and myself will join them at some point on the tour to kind of give it a good happy ending." UG: It is well known that in the course of your career you declined offers to join AEROSMITH and OZZY OSBOURNE. Do you think that if you had joined either of those acts, your musical path would have been remarkably different? Schenker: "That is very hypothetical and I can't really answer that because you do what you do, and you are today because of what happened in the past. But I would say the answer would be no." Click
here
for the complete interview.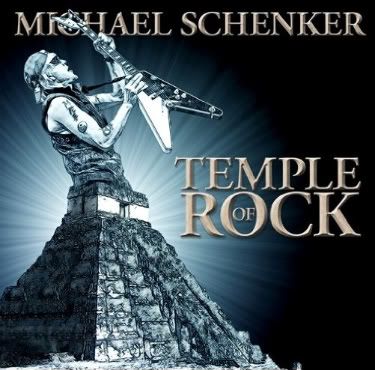 The tracklisting: 'Intro' 'How Long' 'The End Of An Era' 'Saturday Night' 'Fallen Angel' 'Hangin' On' 'With You' 'Miss Claustrophobia' 'Scene Of Crime' 'Lovers Sinfony-Speed' 'Stormin' In' 'Speed' 'Before The Devil Knows You're Dead' 'How Long' (Guitar Battle Version) 'Remember' (Bonus Track for Japan) "The Temple of Rock is within me", says Michael, "where I create since I was introduced to the amazing invention of the distorted guitar which is for me the most enjoyable and the best possible way to express myself. The rock guitar sound that I fell in love with, mostly expressed as lead breaks, is what I have nurtured and treasured all of my life. Combined with the infinite spring from within and the amazing musicians around me I keep expressing an on going development of my art (being)." "With Temple of Rock", Michael adds, "I am entering a new stage of my life, a new level of existence enjoying life more than ever, reaping the joy of all sorts of developments from the past. These days I just want to go out there, play and have fun. Also, it seems to me that collectively, with true expressive makers of rock music, we have been building the external Temple Of Rock for many years and have now come to the point of putting on the roofing and celebrating the almost completion of the Temple. All generations of this period are meeting all over the world on one stage it seems celebrating an era of "hand make rock", which will never be the same again due to invention of new technology but of course New Temples and New Wonders will arise to enjoy expressions in new ways". Lineup: Michael Schenker - Guitars Michael Voss - Vocals Herman Rarebell - Drums Pete Way - Bass Wayne Findlay - Keyboards Also featuring: Schenker Brothers William Shatner (Captain Kirk from Star Trek) Leslie West (MOUNTAIN) Michael Amott (ARCH ENEMY) Doogie White (ex-RITCHIE BLACKMORE, ex-YNGWIE MALMSTEEN) Robin McAuley (SURVIVOR, ex-MSG) Don Airey (DEEP PURPLE) Paul Raymond (UFO, ex -) Simon Phillips (TOTO, MSG, ex-JEFF BECK) Carmine Appice (MSG, ex-Jeff Beck) Chris Slade (MSG, ex-AC/DC) Chris Glenn (MSG, ex-ALEX HARVEY) Neil Murray (MSG, ex-WHITESNAKE, ex-GARY MOORE) Brian Tichy (Whitesnake) Elliott "Dean" Rubinson (Owner of Dean Guitars, MSG, Michael Schenker) Schenker's new song, 'Miss Claustrophobia', from the upcoming Temple Of Rock album, can be heard in the YouTube clip below: