Mikael Akerfeldt Talks STORM CORROSION In New Video
May 8, 2012, 5 years ago
In the footage below, Mikael Akerfeldt discusses the STORM CORROSION project, including songwriting, production, whether the songs will ever be played live, and more.
In the clip below, Mikael Åkerfeldt and Steven Wilson discuss song structure and the influences behind their upcoming self titled album:
Sound And Vision magazine recently conducted an interview with Storm Corrosion talking about vinyl. Watch the interview at this location.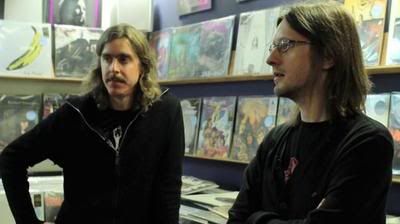 Storm Corrosion recently released their first official video, for the track 'Drag Ropes'. Watch the new clip below:
Åkerfeldt and Wilson will release Storm Corrosion on May 8th, but you can pre-order it in two deluxe packages.
Check out the Storm Corrosion final artwork below: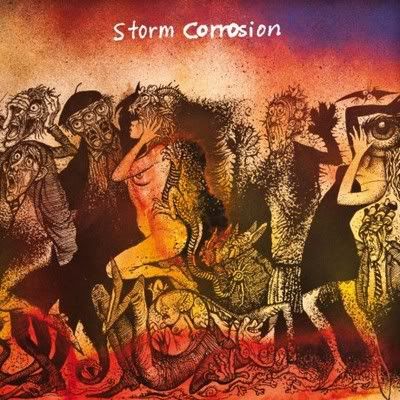 The Storm Corrosion Special Edition Blu-ray/CD Set and Collector's Edition Double LP Bundle (pre-order link) is $50, and includes the album on 180-gram black virgin vinyl, in a gatefold jacket with exclusive artwork; a digital download of the entire album in high-quality FLAC files; the Blu-ray/CD version of the record, which offers the album on CD; a Blu-ray disc containing a 5.1 audio mix of the entire album, two exclusive demo tracks, and five instrumental tracks; a 24" x 36" fold-out poster; and a separate 12" x 12" poster autographed by both Mikael Åkerfeldt and Steven Wilson.
The Storm Corrosion Collector's Edition Double-LP Set (pre-order link) is $35, and includes the vinyl version, the digital download, and the two posters.
Storm Corrosion track listing:
CD:
'Drag Ropes'
'Storm Corrosion'
'Hag'
'Happy'
'Lock Howl'
'Ljudet Innan'
Blu-ray:
'Drag Ropes'
'Storm Corrosion'
'Hag'
'Happy'
'Lock Howl'
'Ljudet Innan'
'Drag Ropes'
'Storm Corrosion'
'Hag'
'Happy'
'Lock Howl'
'Ljudet Innan'
'Drag Ropes' (demo)
'Hag' (demo)