MIKE PORTNOY Gearing Up For Cymbal Charity Auction Featuring "Signatures From So Many Of My Gracious Friends; This Is One Hell Of A Souvenir!"
February 4, 2013, 4 years ago
Drummer MIKE PORTNOY (ADRENALINE MOB, ex-DREAM THEATER) has checked in with the following update:
"Last week while at NAMM, I gathered signatures on a cymbal for a charity auction tba soon. I was lucky enough to gather signatures from so many of my gracious friends from IRON MAIDEN, BLACK SABBATH, VAN HALEN, GUNS N ROSES, DEEP PURPLE, ANTHRAX, SLAYER, MEGADETH, TESTAMENT, EXODUS, LAMB OF GOD, ALICE IN CHAINS, KORN, QUEENSRYCHE, WHITESNAKE, OZZY, SCORPIONS, THE CULT and more! This is one HELL of a souvenir!! Details coming soon..."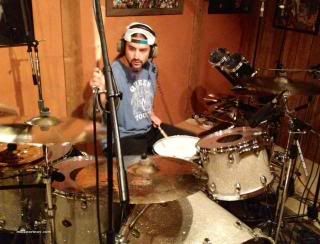 On February 2nd, drummer Portnoy took part in an impromptu Twitter Q&A; with the fans. A transcript of the exchange can be found here. An excerpt is available below.
Q: Will Score (Dream Theater) ever be released on Blu-ray?
Portnoy: "I hope so. Sadly, I have no say in those things anymore. Sorry."
Q: You need to do a song with Lzzy Hale (HALESTORM)....
Portnoy: "Uh... I did. Adrenaline Mob's 'Come Undone'."
Q: When's the next Metal Masters show?
Portnoy: "I heard possibly in May. Hope I can make it. It killed me to miss the last one."
Q: Could you please replace Lars in METALLICA?
Portnoy: "Nobody could (or at least nobody should) ever replace Lars in Metallica."
Portnoy recently checked in with the following update:
"Wow! Really cool fan tribute to my '12 Step Suite' (and a whole lot more!). It's like my life flashing before my eyes! Will always be very proud of my legacy. Check this out DT fans. I still hope to someday perform this entire suite in its entirely live on stage as that was always my idea/intention. Thanks for making this, DeanBassmanGaudoin!"
Click here for background information and a breakdown of '12 Step Suite'.