MIKE PORTNOY Sends Message To South American Concert Promoters - "C'mon, Step Up To The Plate And Give The Fans What They Are Waiting For"
November 7, 2012, 4 years ago
Drummer MIKE PORTNOY (ex-DREAM THEATER) has issued the following message: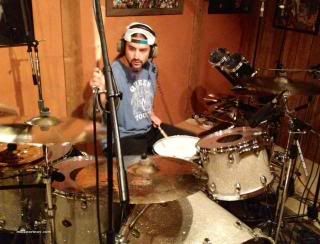 "A message to all of the South American promoters I have worked with in the past: I miss my South American fans! All throughout 2012, I have toured extensively in the US, Europe and Asia but have yet to have any offers to tour in South America. My last three shows in Brazil were as 'Special Guest drummer' (with AVENGED SEVENFOLD in 2010, STONE SOUR in 2011, and FATES WARNING in 2012). I really would like to tour South America with one (or several) of my new bands in 2013 (ADRENALINE MOB, PORTNOY/SHEEHAN/MACALPINE/SHERINIAN, NEAL MORSE, PORTNOY/SHEEHAN/KOTZEN, TRANSATLANTIC or FLYING COLORS). C'mon, step up to the plate and give the great MP fans what they are waiting for (and I too am waiting to play for them again!).
I hope to see you all in Brazil, Argentina, Chile, Peru, Colombia, Venezuela and beyond in 2013 with one (or even several) of my bands!"

The virtuoso band featuring Portnoy, Billy Sheehan, Tony MacAlpine and Derek Sherinian are currently on the road in Asia, playing an all-instrumental set consisting of material from each of their solo records and their previous collaborations as well as classic instrumental covers and extended solo spots. Mike Portnoy formed the lineup to perfom at two drum events at the NAMM show last January. Due to overwhelming response that band has decided to take their show on tour.
"I knew when assembling this lineup that it would be a magical musical experience that would be a blast for us as well as the fans! I can't wait to play again with these tremendous musicians and share the experience with you all at these special shows!" says Portnoy.
Remaining tour dates are now as follows:
November
10 - TAB Live Music Bar - Orchard, Singapore
11 - Senayan Lapangan D - Jakarta, Indonesia
The band recently posted a promo clip for their new InstruMENTAL Inspirations DVD, which offers an inside look at the project and is available on tour. Check it out below: