MOB RULES - Cannibal Nation Artwork, Tracklisting Revealed
September 1, 2012, 7 years ago
On October 19th, German melodic metallers MOB RULES will release their seventh studio album called Cannibal Nation via AFM Records.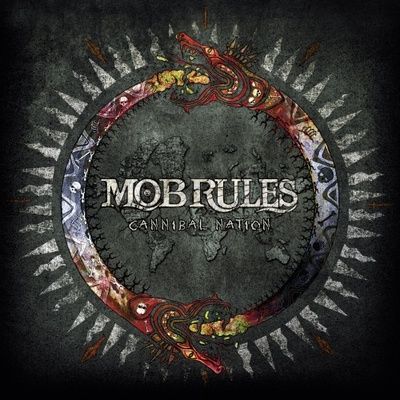 The cover artwork has been unveiled above and the tracklisting follows:
'Close My Eyes'
'Lost'
'Tele Box Fool'
'Ice And Fire'
'Soldiers Of Fortune'
'The Sirens'
'Scream For The Sun (May 29th 1953)'
'Cannibal Nation'
'Sunrise'
Bonus track on ltd. ed. digipak: 'Children Of The Flames' (Live In Atlanta)
According to a press release, Cannibal Nation is a varied, hook-oriented and energetic record. By building their own studio, a whole lot of new possibilities opened to the band. So the Dwelling Mound studio of guitarist Sven Lüdke became the place for Mob Rules to compose their new material. The result: every song on Cannibal Nation appears sophisticated and right on point. From the prog metal-influenced opening track 'Close My Eyes' to the following 'Lost' with its strong hookline, the first single 'Ice & Fire' (inspired by the story of the abducted Colombian politician Íngrid Betancourt), which features atmospheric orchestral parts by Michael ´Miro` Rodenberg (AVANTASIA), to 'Scream For The Sun' (lyrically dealing with the first ascent of Mount Everest) and the album's final song 'Sunrise', every track was arranged with passion and reason. With 'Tele Box Fool' also a song whose lyrics critisize today's dull TV/media culture, can be found on the album.
Mob Rules will celebrate the release of Cannibal Nation with a live release party on October 20th in their hometown Wilhelmshaven, Germany. Tickets are available now at this location.