MORBID ANGEL's David Vincent – "Our Audience Is Some Of The Greatest People In The World"
July 12, 2011, 8 years ago
Metal-Rules.com recently conducted an interview with MORBID ANGEL's David Vincent. Excerpts follow:
When asked about the connection between the band and the audience, Vincent replied: "Our audience is some of the greatest people of the world. It's been a journey – we do crazy things musically. And our fans are true morbid Angel fans. They expect us, and they expect to be challenged."
When asked about their new album, Illud Divinum Insanus, Vincent said: "I'm blown away by the creativity – it's just damn unique. I'm absolutely proud of everyone's effort on this record."
On the subject of classic death metal bands, Vincent expressed that he's looking forward to the new CARCASS record: "I would love for there to be a new Carcass album personally because I really like Carcass a lot, Carcass has always been one of my favourite bands."
To read the entire interview visit Metal-Rules.com.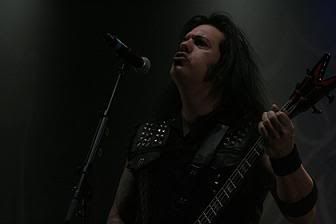 As previously reported, Morbid Angel have updated their live itinerary with the inclusion of dates in Latin America/South America. Upcoming Morbid Angel live dates currently include:
July
22 - Helsinki, Finland - Tuska Festival
24 - Montreal, QC - Heavy Montreal
August
5 - Wacken, Germany - Wacken Open Air
6 - Calvão, Portugal - Vagos Open Air
10 - Katowize, Poland - Metal Hammer Festival
11 - Jaromer, Czech Republic - Brutal Assault
12 - Schlotheim, Germany - Flugplatz Obermehler (Party.San Open Air)
14 - Walton-on-Trent , England - Bloodstock
September
2 - Mexico City, Mexico - Circo Volador
3 - San Jose, Costa Rica - Peppers Club
6 - Lima, Peru - Teatro Rajatabla
8 - Santiago, Chile - Teatro Teleton
9 - Buenos Aires, Argentina - Teatro las Flores
11 - Sao Paulo, Brazil - Carioca Club
2 - Tokyo, Japan - O-East
27 - Nagoya, Japan - Club Quattro
28 - Osaka, Japan - Big Cat
BraveWords.com has a new extensive interview with David Vincent discussing the band's new album, Illud Divinum Insanus. Check out the chat here.
The band released their 8th studio album Illud Divinum Insanus on June 7th through Season Of Mist.