MÖTLEY CRÜE Hit The Studio To Record New Song
February 25, 2012, 5 years ago
Los Angeles hard rockers MÖTLEY CRÜE have hit Tommy Lee's Atrium Studio today to bin work on their first new material since 2008's Saints Of Los Angeles. The band are recording a song that will coincide with their upcoming summer tour that begins in Russia in June (see complete itinerary here). Check out a photo from the studio below: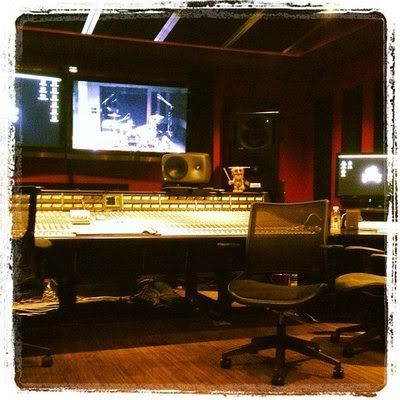 About upcoming activities bassist Nikki Sixx updated recently:
"Mötley Crüe and the Crüeheads have pretty much taken over Vegas the last few weeks... It really feels like we're riding the positive chaos right now. We just did a huge new photo shoot, were finishing up a brand new Crüe song for summer (that will lead to an full album after), European headline shows on festivals and in arenas too, but none of this would happen without you guys. Thank you."