MÖTLEY CRÜE - Review And Setlist From Las Vegas Residency Kick-Off Show Available
February 4, 2012, 5 years ago
MÖTLEY CRÜE kicked off Las Vegas' first hard rock residency on February 3rd at The Joint at Hard Rock Hotel & Casino. An excerpt from a Las Vegas Sun review, courtesy of John Katsilometes, is available below: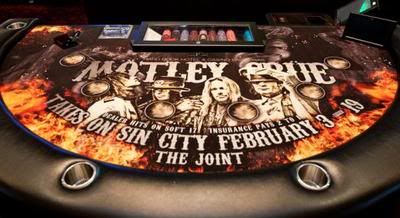 In one of their most recognizable songs, Motley Crue decries the 'Same Ol' Situation.' The song is about a girl named Cindy "who changed her name to Sin," appropriately enough as on Friday night the band embarked on a dirty dozen shows at the Joint in the Hard Rock Hotel dubbed "Motley Crue Takes on Sin City."
The general theme here is Motley Crue finds the same ol' situation highly unappealing. This is true of the maddening Cindy/Sin, and also of the band's approach to live performance. This stretch of performances cries for high-flying production, as more than 40,000 seats are to be filled between now and Feb. 19 (Friday's opener was well-attended, but not a sellout in the 3,450-seat venue, though officials are happy with advance sales of the residency).
What's happening at the Joint is not the same ol' situation for Motley Crue, not in the least. You know this the moment a little-person version of the band called Little Crue scampers onstage in what frontman Vince Neil has described as "Cirque meets rock." Many of the band's greatest hits thunder through the performance, among them 'Wild Side', 'Shout at the Devil', 'Looks That Kill', 'Don't Go Away Mad (Just Go Away)', 'Smokin' in the Boys Room', 'Girls, Girls, Girls', 'Dr. Feelgood', 'Kickstart My Heart' and 'Home Sweet Home'.
The often blinding, consistently high-decibel carnival of sight and sound is no mere rock show. Even with some opening-night glitches (the lighting couldn't quite capture all members of Little Crue, and the sound sometimes seemed, for lack of a better term, muddy and not typically crisp of shows at the Joint), the show was a full-sensory experience. At alternate times, the vast Joint stage was populated by a pair of aerialists performing acrobats in silks, and also hanging high above the crowd from a thick chain; a trio of bustier-wrapped backing singers/dancers; recurring appearances by the quartet of little people (including budding superstar Brian Thomas of Las Vegas) during a mock wedding scene in which the bride is described as being "better than free cocaine"; a visit from a leather-bound emcee who is apparently a woman but who exudes quite masculine tendencies; and, of course, the circus act that is the venerable rock band itself.
Click here for the complete review.
The complete setlist on the night was as follows:
'Live Wire'
'Wild Side'
'Too Fast For Love'
'Saints Of Los Angeles'
'Shout At The Devil'
'Afraid'
'Same Ol' Situation (S.O.S.)'
- guitar solo -
'Looks That Kill' (acoustic version)
'Piece Of Your Action' (acoustic version)
'Primal Scream' (acoustic version)
'Dr. Feelgood'
- drum solo -
'Smokin' In The Boys Room'
'Girls, Girls, Girls'
'Kickstart My Heart'
'Home Sweet Home'
Check out fan-filmed footage below:
Confirmed Mötley Crüe dates at The Joint at Hard Rock Hotel & Casino are: February 4th, 5th, 8th, 10th, 11th,12th, 14th, 15th, 17th, 18th and 19th. Tickets are on sale at The Joint box office and Ticketmaster.