NEAL MORSE - Limited Number Of VIP Packages Available For Upcoming European Shows
December 29, 2012, 4 years ago
Former SPOCK'S BEARD frontman NEAL MORSE is gearing up for a European tour with THE FLOWER KINGS, due to kick off on February 22nd in Stockholm, Sweden. He has checked in with the following update:
"Starting January 1st, the VIP packages for the Neal Morse / The Flower Kings European Tour 2013 will be available! The meet and greet will take place before the show, so fans won't need to stand in line before the show or stay late after. We worked to create a special experience for you, and as part of that we limited the number of spaces. A maximum of 40 tickets will be available for each show. All info can be found
here
."
Tour dates are as follows; venues will be confirmed soon:
February
22 - Stockholm, Sweden
23 - Malmö, Sweden
25 - Hamburg, Germany
26 - Cologne, Germany
27 - Pratteln, Switzerland
28 - Milan, Italy
March
1 - Barcelona, Spain
2 - Madrid, Spain
5 - Rüsselsheim, Germany
6 - Zoertermeer, Holland
7 - London, England
The new MORSE/PORTNOY/GEORGE album - featuring Neal Morse, Mike Portnoy and Randy George - was released on May 22nd via Radiant Records. The complete tracklist is as follows: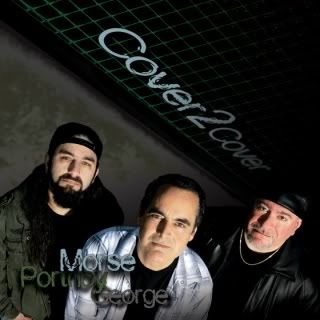 2012 Momentum Sessions:
'Lido Shuffle' (BOZ SCAGGS)
'I Saw The Light' (TODD RUNDGREN)
'Rikki Don't Lose That Number' (STEELY DAN)
'Teacher' (JETHRO TULL)
'Driven To Tears' (THE POLICE)
'Come Sail Away (STYX)
'Southern Man / Needle And The Damage Done / Cinnamon Girl' (NEIL YOUNG)
2008 Lifeline Sessions:
'Crazy Horses' (THE OSMONDS)
'Lemons Never Forget' (THE BEE GEES)
'The Letter' (JOE COCKER version)
'(What's So Funny 'Bout) Peace, Love & Understanding' (ELVIS COSTELLO)
'Starless' (KING CRIMSON)
The album is available exclusively through www.radiantrecords.com.
A clip of the trio performing 'Crazy Horses' is available below. Guitars on the track were performed by Paul Gilbert (MR. BIG), who does not appear in the clip. Previously released footage of the trio covering the Styx classic 'Come Sail Away' is also available.