NEAL SMITH - ALICE COOPER BAND Drummer Goes Solo
November 27, 2011, 6 years ago
By Mitch Lafon
It's not every day that a member of the Rock N' Roll Hall Of Fame rings you up, but that's what happened recently when one-time ALICE COOPER BAND drummer, Neal Smith, check in to discuss his new album Killsmith Two. He also took the time to speak about the new music he created with his former band mate, ALICE COOPER, on the instant classic Welcome 2 My Nightmare record.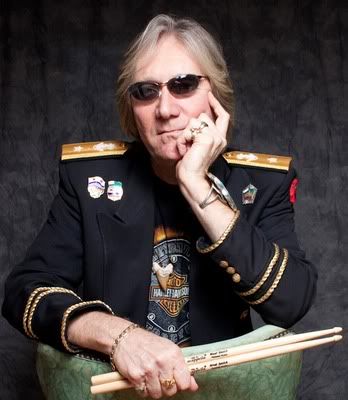 BraveWords.com: What can fans expect from your new album, Killsmith Two?
Neal Smith: "I wrote all the songs, I sang everything, I played rhythm guitar and drums. Peter Catucci is the bass player (he was also on the Sexual Savior album) and we recorded the album in his studio. I got my mid-life crisis X-rated stuff out of my system/lyrics which was great because (Sexual Savior) didn't get much airplay because of that (the lyrics). There's a dozen brand new songs (that should be able to get played on the air) and that's the exciting part of it. I also wanted a more traditional lead guitar this time as opposed to what was on Sexual Savior. This is the musicians just playing. It's a 'players' album with a little more hooks."
BraveWords.com: How long has this album been in the making?
Smith: "I started this in 2009, so all the songs were written between then and now."
BraveWords.com: You recently worked with Alice Cooper - was that the inspiration to get an album out this fall?
Smith: "I was trying to release it back in the spring, but I just got so busy with everything. I'm also in the real estate business and that got busy in the summer, so that pushed it back as well. It was all mastered and mixed right after the Rock N' Roll Hall Of Fame and I wanted it to be the first release by any of the inductees this year, but I'm the kind of person that doesn't have deadlines. I'd rather do it right then rush it and that's what I did."
BraveWords.com: Will you be touring to support the album?
Smith: "We're in rehearsals as a four piece and we're trying to do some shows around New England by the first of the year and maybe before that. It's just a matter of logistics."
BraveWords.com: The last album was in 2008 and before that 2003. Are you looking forward to making another album sooner rather than later?
Smith: "I'm not the kind of person that sits down and says, 'in the next ten days I'm going to write ten songs' (because most likely they'll suck). I wait until I'm really inspired to write. I think this is the best group of songs I've written and I'm just having fun trying things that nobody from the original (Alice Cooper) band is trying. I'm also trying to keep it a little more contemporary. I love Alice's new album... have you heard it?"
BraveWords.com: Yes, and I think it's great. Alice's tongue-in-cheek approach is brilliant...
Smith: "That was one of the keys thing back in the day when people were scared of the band back in the '70s. It was threatening, but only as threatening as a John Wayne movie. It is tongue-in-cheek and it's purely for entertainment. Alice was and probably still is the sanest guy in the band. It was always purely for entertainment on stage. We were playing our music and acting. We didn't get off stage and start chopping babies up with hatchets. That's the beauty of what Alice has done and it's nice to have Bob (Ezrin) back. When we got together to do the three tracks: I'll Bite Your Face Off, Runaway Train and When Hell Comes Home..."
BraveWords.com: Runaway Train (originally called Subway) appeared on a Dennis Dunaway album first...
Smith: "Right and I'll Bite Your Face Off is a rewrite of a song off of my new album (Killsmith Two) called Evil Voodoo Moon. We've been throwing songs back and forth for fifteen years. I'll send songs to Alice and I'll play him a bunch of my new stuff, so this time he and Bob rewrote Evil Voodoo Moon into I'll Bite Your Face Off. Michael (Bruce) had a song called Hell Hole #9 on one of his demo tapes which is pretty much the same song Alice has (When Hell Comes Home), but with new lyrics. It's the same arrangement. The other songs were changed a little bit, but Michael's song is almost identical. Just to have the four of us together is wonderful. We had talked (after the Hall Of Fame) about doing a handful of shows on the East Coast (US), West Coast (US) and Canada. Alice talked about it and we talked about, but I knew at the same time that he was booking his tour for 2011. Unfortunately, I knew it was never going to happen."
BraveWords.com: I know you're saying never right now, but at some point it has to happen, right?
Smith: "if there's enough interest from the songs we just recorded on this album (Welcome 2 My Nightmare) and we go in to record an album with just the four of us then it might be a possibility, but c'mon you get into the Rock N' Roll Hall Of Fame and you can't do a couple of dates around the country? I know I was swamped with emails. Dennis was swamped. People were disappointed... The current tour is called No More Mr. Nice Guy - that's Michael's song. All the appearances were there that something was going to be happening with the original band, but it didn't happen. You can never say 'no'... I never thought we'd get nominated much less get into the Rock N' Roll Hall Of Fame, so that's great and it's a tribute to the original band. I said in my acceptance speech that it was all about the fans because they've really been there for us and without that band - Alice... none of us would have been doing anything. I think that's a great testimonial to the music. It's 2011, Mitch, and they're still playing School's Out. I would have never guessed that then again I never would have guessed that I would have lived into the 2000's because drummers had a very short shelf life if you recall."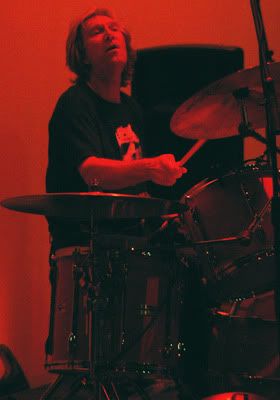 BraveWords.com: There's been a lot of guys that have played with Alice over the years, but for some reason it just sounds better when it's the original band. There's a real chemistry...
Smith: "Mitch - we wrote the songs. It's like THE ROLLING STONES, if you put Mick Jagger with any band in the world, it's not going to sound like Keith Richards. It just won't happen. I heard Jack Bruce with another drummer playing all the CREAM songs, but it's not Cream without Ginger Baker. It's not chemistry. It's just the real deal and that's all there is to it. I've gotten emails for the last twenty years that have said the same thing. people will go see Alice's show, but it's different. We did the Jägermeister 4D show and, to me, that's the way the songs are supposed to be. When I hear, 'Halo Of Flies' with some of those drummers - I mean c'mon give me a break. They can't play that fucking song to save their lives. They didn't write the parts to the song. They don't have the feel. They get through it to get through it. I wrote the drum parts to that song (and all of our songs) - we lived and died for those things..."
BraveWords.com: You can learn the mechanics of any songs and make it sound like the song, but it's very different to have the 'feel' for the song.
Smith: "With all due respect to those drummers, when John Bonham died I contacted LED ZEPPELIN to see if they were auditioning drummers, but my style is so different to John Bonham's. He plays things that I simply can't understand. Stewart Copeland from THE POLICE plays things that I just couldn't play. Everybody's style is very very different and that's a great thing, but the person that writes the parts have the right feel for it. Then, when you add Dennis and Michael Bruce... Michael has his own sound too. When Michael sings back-up to Alice that's like Keith Richards singing backgrounds to Mick Jagger. That's the sound. Now, you have the guitar, the rhythm section, the vocals and that's what makes it sound like the original Alice Cooper. It would have been cool, if Michael could have sung some of the background on Alice's new album, but unfortunately that didn't happen."
BraveWords.com: Let's put the shoe on the other foot - Alice says to you, 'ok let's do a tour, but I want you to learn 'Poison' and 'Hey Stoopid'. When you play them, does it sound like the original band or do you say, 'I can't do this' ?
Smith: "That's a good point and it's very hard to say. I'm 100% pure Alice Cooper and if that were the case then I'd want Alice to include one of Michael's songs, one of Dennis' songs and one of my songs. The band was always a pure democracy. Nobody dictated anything, so Alice would never say that, but I've always loved a challenge. I love 'Poison'. It's a great song and if I were to try and play it... I'm sure it's not easy, but I can learn any song. This is not John Bonham doing off counter beats or something. 'Poison' is a straight ahead thing that some studio musician played, so I don't think it would be a problem learning the song."
BraveWords.com: Would it end up sounding like 'School's Out' or does it end up sounding like just another drummer playing Poison?
Smith: "I think it ends up sounding like the original band playing Poison and that would be different than the record because we didn't play on it. That's a great great point and I've often thought about that, but I wouldn't be against trying some of Alice's new stuff. The way I see it though, in his show, Alice does about 70% to 80% of the original band's music. So, sure it's possible, and we got to the point where we said we'd do some shows... I'm sure the four of us would make whatever concessions needed to make it happen for the fans. We've, so far, let the fans down and that's what bugs me. Everyday that goes by, we're getting older. We've played the Hall Of Fame. We've played the X-mas Pudding and by the time we played the Jägermeister show - we'd been playing together for nine months and it was starting to sound like a band. Steve Hunter was working phenomenally well with the band. In rehearsals, I'm going 'holy shit - this is starting to sound like a fucking band now.' It was really starting to cook and Steve fits in great and he's a great personality. We all love him and he's the perfect segue way from Glenn into the present day. He's great and he's a great guy. I also love Damon Johnson. Damon is great to play with as well. They're both incredibly nice people and fun to work with. Both fit in to the tapestry of what the band is all about."
BraveWords.com: From a fan's perspective, seeing the 'original' band do a tour would be mind-blowing because I never had a chance to see you live.
Smith: "A lot of people haven't. I just had an email the other day from a huge 21 year old fan..."
BraveWords.com: I can understand with your realtor business and everyone's other commitments that it might be hard to get the band together for a tour...
Smith: "Trust me, in this economy I'm doing more music and I'm at the age now that I'll do what I want to do. If somebody wants to buy a house while I'm on the road - fine. I have people I can refer them to."
BraveWords.com: Worst comes to worst book a gig in Boston or something, truck in a dozen cameras and tape the show for a DVD release, so that the fans have, at least, something.
Smith: "That's exactly what I want to do. Much like Cream did. I'd like to do two or three shows in one city. Set up the cameras and record. That's what we did for the Jägermeister show. If we were lucky enough to do some shows and record them for a DVD - that would be the way to go. I'll give you Alice's home phone and you can call him direct... (laughs)."
For more info visit NealSmithRocks.com.