NEKTAR's Remember The Future' Gets Re-Released With Bonus Live Disc
April 25, 2011, 8 years ago
Considered one of the greatest 'prog' albums ever to be recorded, NEKTAR's Remember The Future (#5 in Billboard in 1973) has been re-released by Philadelphia's ItsAboutMusic.com. Fans of the progressive rock genre are rejoicing with the new reissue of Nektar's classic album, along with the added bonus CD of an unreleased live concert from 2007 and a full live performance of Remember The Future.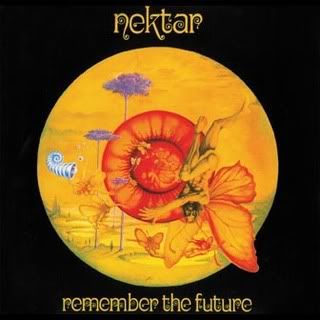 The main driving force behind Nektar Roye Albrighton discusses the concept behind Remember The Future: "We imagined the scenario where an alien landed here but was unable to communicate in the normal sense by voice, and was so alien looking (aka blue skin) that he was frustrated until, that is, he met a blind boy. With his mental powers the alien could communicate with him easily enough and proceeded to describe to him that he had visited earth once before. He also described what had happened to the human race all that time ago and tried to impress on the boy that humans should not make the same mistakes again."
Unquestionably, Remember The Future propelled Nektar to the next level of international success, particularly in the US. "The album took us all by surprise that is was so well received," says Roye. "We had no idea that it would become such a milestone in the progressive rock arena. Personally I like the album, it's also a pleasure to play live (especially part two). I wouldn't say it is my favorite Nektar album, but it ranks high. My all time favorite 'Recycled', which was a joy to record, is still very listenable and a real blast to play 'live' as it brings out the true power of the band."
Further details and song samples can be found at this location.