NIGHTWISH Designs Battery Energy Drink Can
March 9, 2012, 8 years ago
Finland's most international metal band, NIGHTWISH, has designed a can for Finland's most international energy drink, Battery Energy Drink.
Battery Energy Drink is launching already its second design can in Finland. The Nightwish can was designed by Nightwish's animator Janne Pitkänen in collaboration with Nightwish mainman Tuomas Holopainen. This limited edition can holds the energy drink Battery Original and will be available in Finnish stores starting March 19th.
Nightwish and Battery Energy Drink signed a marketing co-operation in December 2011. In addition to the design can, the collaboration includes visibility and activations in web, social media as well as at selected Nightwish concerts and festivals during the year 2012.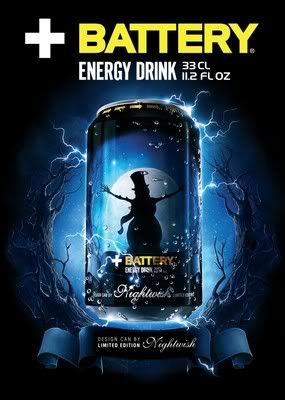 "Finnish metal music is international and speaks to the masses. Heavy, powerful and energetic music such as Nightwish's is a perfect fit for Battery Energy Drink. Nightwish is Finland's most successful and international metal band, just like Battery Energy Drink in its own field. Furthermore, Nightwish's mystical graphic look works very well on the Battery design can", says Battery Energy Drink's domestic brand manager Antti Airaksinen.
Nightwish's long-awaited album Imaginaerum was released in December 2011. The album's first single release 'Storytime' has been a radio hit all over Europe, and its music video has been watched over 2 million times on YouTube. Furthermore, Imaginaerum became the best selling album of 2011 in Finland – with just one month's album sales.
"A co-operation with another Finnish pioneer always feels good. Nightwish and Battery Energy Drink are the same age, international and pioneers in our respective fields", says Tuomas Holopainen from Nightwish.
Nightwish's first album, Angels Fall First, came out in 1997, the very same year as Battery Energy Drink was launched in its first market, Finland. Both are hence celebrating their 15th anniversary in 2012.