NIGHTWISH - Director Stobe Harju Issues Imaginaerum Movie Update: "We Are Living Exciting Times"
December 21, 2011, 8 years ago
Stobe Harju, the Director of NIGHTWISH' upcoming Imaginaerum movie, has issued the following update from Helsinki, Finland:
"Dear friends of Nightwish and the Imaginaerum movie.
This must be the hardest update I had to write because of my principal "hands on" work is getting less frequent. For that, I feel emptier than ever.
As most of you may know, we finished the director's cut for the film. Everyone involved in the screening sessions were very happy and gave precious feedback that made the director's cut. I can say this now, we are very, very, very happy with the cut. There are many people who deserve our appreciation, they are fellow directors, co-writers, actors and producers. There is still editing required for the visual effects to make us stay in the budget. This phase eventually makes the film and is crucial to the success of the final movie. Again, we are living exciting times.
Now, filmmaking is mostly about letting go. Besides the editing, I had to say farewell to my very good friend and the editor of the film, Mathieu Bélanger, and his fantastic family who joined me in Finland for couple months. The heart and soul Mathieu put into this film cannot be described by words and I'm sure, our paths will cross in the future and in another project.
Now, the film is in the good hands of another friend of mine Joshua Sherrett, his Workshop and the great team of Vision Global in Montreal. Their visual effects and their early concept sketches have blown us away several times already, and finally, they get to show us the meaning of the word "magic". Believe me when I say we've seen some pretty exciting stuff so far.
As my work continues with them it also continues with Petri Alanko and the soundtrack he's producing with Tuomas. It's miraculous how these guys can pull off something completely different but at the same time similar with the Imaginaerum album songs. Well, it must be the 350 tracks per song on the album that give that possibility for the variations. Those crazy bastards.
It's just a matter of time when we have got something new and special to show you. We hope it's quick because we can't wait either.
Meanwhile, the great people working on Imaginaerum would like to thank you all and wish you a magical Christmas and imaginative New Year! May your dreams come true."

Chart positions have surfaced for the Imaginaerum studio album, which recently entered the charts of Nightwish' home country Finland at #1.
Imaginaerum chart positions:
Finland: #1
Sweden: #3
Switzerland: #3
Germany: #6
Austria: #9
Slovenia: #13
Ireland Indie: #15
Czech: #16
Norway: #17
Poland: #18
Hungary: #21
Holland: #24 (Holland Indie: #12)
Italy: #32
France: #33
Portugal: #33
Belgium Flanders: #44
Spain: #49
Belgium: #51
Denmark: #55
Belgium Wallonia: #64
UK: #69 (UK Rock: #3; UK Indie: #7)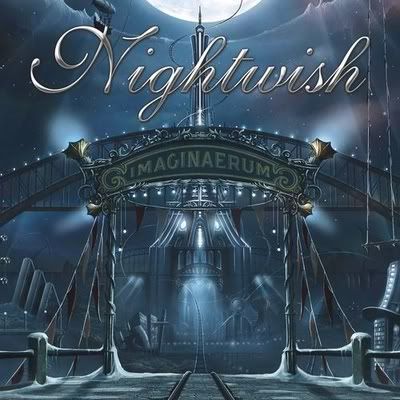 Imaginaerum is the band's first album since 2007's Dark Passion Play, which was then-new singer Anette Olzon's debut. The tracklisting for Imaginaerum is as follows (note that track 12 is broken down into four parts):
'Taikatalvi'
'Storytime'
'Ghost River'
'Slow, Love, Slow'
'I Want My Tears Back'
'Scaretale'
'Arabesque'
'Turn Loose The Mermaids'
'Rest Calm'
'The Crow, The Owl And The Dove'
'Last Ride Of The Day'
'Song Of Myself'
Song 1: 'From A Dusty Bookshelf'
Song 2: 'All That Great Heart Lying Still'
Song 3: 'Piano Black'
Song 4: 'Love'
'Imaginaerum'
Check out BraveWords.com's review of Imaginaerum at this location.
Full length audio samples from Imaginaerum have surfaced on YouTube. Check out a few of the clips below:
'I Want My Tears Back'
'Scaretale'
'Last Ride Of The Day'
'Turn Loose The Mermaids'
Click here for more.
Nightwish, who issued Imaginaerum in Europe on December 2nd, have renovated and revamped their official website to coincide with the release. Go to Nightwish.com to check it out.