NIGHTWISH - Imaginaerum Director Checks In
September 7, 2011, 6 years ago
Finnish symphonic metallers NIGHTWISH have issued the following update from Imaginaerum director Stobe Harju:
"It was four years ago. We had just shot Nightwish's music video, 'The Islander', in Rovaniemi, Finland. As we sat down afterwards with Tuomas Holopainen, we pondered over the idea of having a music video for each of the songs on their next album. Back then it was the distant dream of two ambitious people.
One year later Tuomas called me and said: 'This is it: would you be willing to come over and talk about our next project together?' The next few months were full of excitement, writing treatments for twelve clips, thinking how hard it would be to make all this happen.
At one stage I lost track of time as I was writing a story about a young boy, growing old in his own dream. It was in fact a fictional story about Nightwish, but above all about Tuomas himself, a forever-young genius, who loved life but also every single person around him. As we got inside each other's minds, we knew that music videos weren't enough for what we wanted to say to the world. We wanted something more.
Our love for life, our families, our memories, music, waking up to new wonders each day and love for the best tool available to us human beings, our imagination, became the cornerstones of the story. It had to be about the mixture of our lives and our worst fears of growing old. As we wanted to emphasize all these things, we found there was only one way to convey the story.
Imaginaerum tells the story of an elderly composer, Tom, who suffers from severe dementia. As he has had the disease for years and has regressed into childhood, he remembers practically nothing from his adult life. His music, friends, all his past including the memory of his daughter are a blur in his fragile mind. All he has left is the imagination of a ten year old boy. As he drifts away into coma, it seems impossible to get back what he has lost. Or is it?
The film is a journey between two different dimensions. Tom travels through his imaginary world seeking answers and finding memories, while his daughter, Gem, tries to recover the bond she had once shared with her father in the real world. As they have become more and more distant from each other over the years, and as there's even greater obstacles separating them now – Tom's coma and his imminent death – Gem's project feels doomed to failure. However, through Tom's darkest secrets, Gem discovers the path she must follow in order to find her father again.
There are some questions we must ask ourselves before entering the world of Imaginaerum. What is most important in life? Can the power of memories protect us during our last moments? Will our imagination help us find the spark of life in the deepest darkness? Can we still find love after bitter forgiveness?
Imaginaerum is an emotional fantasy-adventure powered by the music of Nightwish. The story reminds us of our childhood where the smallest but most precious thing meant everything and losing it would have left an everlasting scar. Now it's time to reopen the wound and see what became of it, but above all, where it came from."

Nightwish will release their new single, 'Storytime', on Friday, November 11th. The single is available as a pre-sale as CD (digipak) and 10'' MLP (gatefold) versions. The band also have a new selection of Nightwish shirts available. Visit the Nightwish Shop for more details.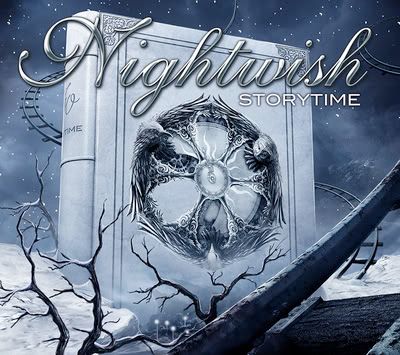 Nightwish recently issued the following statement in regards to the band's upcoming album/movie project:
"In order to avoid mix-ups with various things named Imaginarium, the title of the upcoming album and the movie will be changed to Imaginaerum."
Check out the new promotional image, which reflects the title change, below: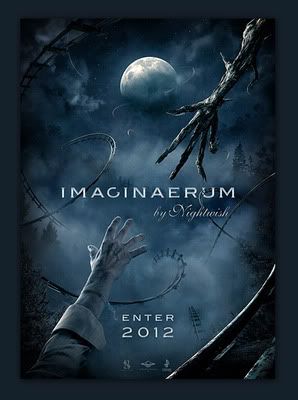 Nightwish recently signed a new record deal with Germany-based label Nuclear Blast for the release of their new album, Imaginaerum. Band leader Tuomas Holopainen comments:
"We are very happy to continue working with the Nuclear Bast family. Our collaboration started on a friendship basis and continues to do so. I was utterly happy and relieved to see they truly understood what Imaginaerum is all about, and we seem to share similar profound enthusiasm towards it. I feel privileged working with such people who, despite the infinite maze of business they must handle properly, still have a huge heart for music itself. "
Nightwish recently posted studio footage from their Imaginaerum sessions at Angel Studios in Islington, London earlier this year (February 14th-20th) on YouTube below. According to a band diary update at the time:
"The recordings include three three-hour sessions with a 53-piece orchestra, most of the players being familiar faces from the Once and Dark Passion Play - sessions. Pip (Williams, the orchestral arranger) joined us at the hotel and we were all excited and ready for a week of long days and for witnessing some superb musicianship. The musicianship of these people never ceases to amaze me. They`ve never heard the songs before, they haven`t had any rehearsals, and still they nail all the songs, even those in the hardest imaginable key, after just one or two run-throughs."
Working titles include: 'Goat`s Liver', 'The Birdie Song', 'Teriyaki' and 'Haunted Mansion Ride'.