NIGHTWISH Issue Imaginarium Album/Movie Production Update; Work Advancing In "Leaps And Bounds"
May 27, 2011, 8 years ago
NIGHTWISH have issued the following update in regards to Imaginarium, the band's forthcoming new album/movie (the album is currently scheduled to be released early in 2012, followed by the movie after an indefinite time:
"During the last six weeks, the work on Imaginarium has advanced by leaps and bounds. We've been so busy with the project there has been precious little time for anything else.
While the band supervises the final mix of the album, location scouting is already underway for the Imaginarium movie. As the name of the movie and the information disclosed so far suggest, these real-world special places are few and far between.
The production crew has also been strengthened by people who have extensive knowledge of post-production technology. This is crucial, because the shoot and post-production are expected to be extremely complex and technically challenging. One of the characters in the movie also needs special attention from the animation department. Without teasing you any further, we can only disclose that this character will surely be remembered by many a Nightwish fan.
Because of the technical challenges and need for more planning, the shooting has been postponed. The movie will nevertheless be completed on time, as the post-production was begun already before the shooting.
There's obviously a lot of expectations for the movie score. Tuomas is currently working on variations with Petri Alanko, renowned for his prize-winning music for the Alan Wake video game. The score will be based on the songs on the album and their main themes in a way that — like many other things with the Imaginarium movie — is a first in the history of motion pictures.
Imaginarium was also featured at the Cannes Movie Festival, where Solar Films presented their forthcoming films. At the same time, the script went through its biggest and most anticipated overhaul so far, confirming that Imaginarium will in no way be a children's movie but a dark and foreboding fantasy; a dream world that lacks no surprises.
In a nutshell, like the director of the movie tends to characterize his productions, "well-planned is half done". The famous sign post on the crossroads leading to Imaginarium is already visible. It says "Imaginarium, X miles", and underneath it reads in small, red, curving hand-writing: "Soon it's time to start shooting"."

The first single from Imaginarium, as well as the trailer for the movie, should appear well before the end of the 2011.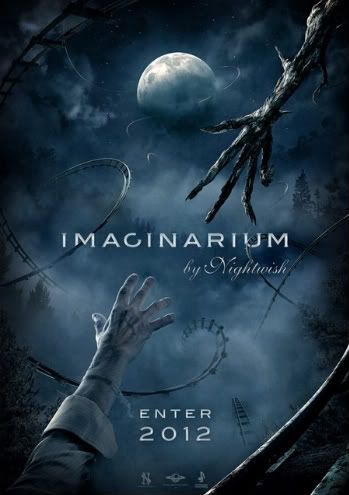 Nightwish recently announced that the very first show for the Imaginarium World Tour will take place at the Gibson Amphitheatre in Universal City, CA, on Saturday, January 21st, 2012.
This will be the biggest Nightwish show production ever on North American soil and strictly a one-off - there will be no US tour until later in 2012. Ticket sales will begin soon.