OBLITERATION To Release Nekropsalms On Vinyl Via Forcefield Records
May 16, 2011, 9 years ago
The four apocalyptic hellraisers of OBLITERATION have teamed up with Richmond, VA powerhouse, Forcefield Records, to release the vinyl edition of these death metal maniacs' Nekropsalms LP. A limited pressing will be available on black (334 available), yellow with black haze (55), and yellow vinyl (134).
This instant cult classic of posercrushing brutality drops May 17th, and are now available for pre-order here.
The band rose up from the woods of Kolbotn, Norway (the same small village that DARKTHRONE and AURA NOIR call home) in 2001, and have been blazing a trail through the international metal scene like men possessed, destroying crowds and desecrating stages at the likes of Hole In The Sky Festival, Live Evil Fest, Killtown Death Fest, Maryland Death Fest as well as on tour in the States/Europe (often alongside brother band NEKROMANTHEON).
Originally released by Norwegian label Fysisk Format in 2009, their sophomore record received rave reviews from both the underground hordes and more mainstream media.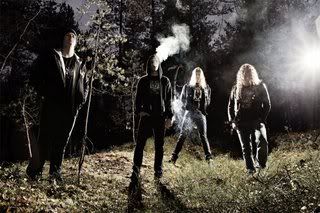 The band are currently working on their third hellish offering, to be released by venerable Norwegian label Indie Recordings sometime later this year.