OPETH Guitarist Fredrik Åkesson - "Overall, A Lot Of People Who Listen To Opeth Are Pretty Open-Minded"
November 20, 2012, 4 years ago
OPETH guitarist Fredrik Åkesson is featured in a new interview with Mark Holmes at Metal Discovery, conducted in Nottingham, UK on November 12th An excerpt from the discussion is available below: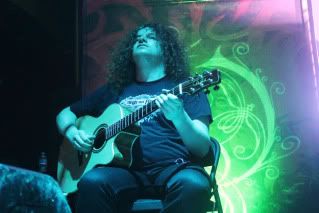 MD: There was initially a bit of a stir caused by 'Heritage' last year amongst longstanding Opeth fans with the absence of death vocals but album sales and glowing reviews didn't reflect that. Do you think some people lost sight of the fact that Opeth are a genuinely progressive band who actually progress?
Fredrik: "I can understand that point of view but Mike writes most of the material and he really felt that the band needed to do something very different to still go on. I think a lot of the fans probably believed he wouldn't play any more of the death metal stuff…which we did on the first tour; we didn't play any. But this heavy set we'll play tonight, I think a lot of the old school fans will be very pleased with it."
MD: I was at the Birmingham show last year and there seemed to be more controversy about having no death vocals in the set than the controversy caused by the album, and you could hear people shouting out, "play heavier stuff"…which is where I think some people missed the point because some of the tracks were still very heavy but just lacking the death growls...
Fredrik: "That spanned the whole tour and I'm kind of proud that we fulfilled it and did a step back because now we're doing an entirely different set. I think that's probably as far as you can take it if you just want to do a concept. But, then again, on this tour we do a set without the growls as well when we play the Union Chapel in London."
MD: Did you get heckled much during the tour last year with just the clean vocal set?
Fredrik: "No, I think it was very well accepted. There were a few incidents, more in America maybe. Some guy screamed to Mikael: 'I challenge you to a duel!' What?! (laughs) But, overall, a lot of people who listen to Opeth are pretty open-minded and understand. It seems like that. A lot of people still showed up to the concerts. I mean, of course, it takes a while I would say. When we started the Heritage tour in America when the album had just been released, it took people a while to digest this kind of style of the Heritage album."
Click here for the complete interview.
Opeth recently updated their live itinerary with the announcement of a trek through Sweden, dubbed Swedish Heritage Tour, in November/December. Dates include:
November
29 - KB - Malmo, Sweden
30 - Katalin - Stockholm, Sweden
December
1 - Club 700 - Örebro, Sweden
2 - Nefertiti - Gotheborg, Sweden
3 - Nefertiti - Gotheborg, Sweden
4 - Sodra Teatern - Stockholm, Sweden
5 - Sodra Teatern - Stockholm, Sweden
6 - Maxim - Gävle, Sweden
7 - Skandiateatern - Norrköping, Sweden
Opeth's complete live itinerary can be found at this location.