Photographer LAURA LONDON Schedules Once Upon A Time... Axl Rose Was My Neighbor Photo Exhibition
September 5, 2012, 5 years ago
Acclaimed fine art photographer LAURA LONDON's new solo show opens at Coagula Curatorial Gallery in Los Angeles, CA on September 29th and runs thru October 21st. An opening reception is scheduled for September 29th, 8 PM - midnight, with a press preview taking place that afternoon, 4 - 7 PM.
Entitled, Once Upon A Time... Axl Rose Was My Neighbor, the exhibit explores the fine line between constructed narrative and documentary, private portraiture and celebrity posing, and, most intensely, melodrama juxtapozed with the all out rock and roll lifestyle.
The exhibition will mix actual documentary photographs of a circa 1990 graffiti vandalization of the residence of Erin Everly by her then-husband Axl Rose with London's studio and location recreations and interpretations of the main characters in the story - the rock star Axl Rose, his wife Erin Everly, his former girlfriend Stephanie Seymour, SLASH (the lead guitarist in the band) and the classic lineup from the GUNS N' ROSES album, Appetite For Destruction.
Ms London explains, "My studio practice explores issues of identity, youth and contemporary culture. Similar to a social anthropologist, I observe people and social situations. My work comes from a combination of personal experience, memory, observation and imagination. 'Axl Rose Was My Neighbor' is a docudrama based on an interpretation and depiction of actual events."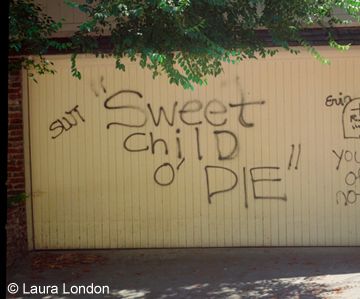 Further details at this location.