PIG DESTROYER Announce Tour Dates, Festival Appearances
July 18, 2012, 5 years ago
Alexandria, Virginia-based metallers PIG DESTROYER have announced a series of summer and fall festival appearances in support of their fifth full-length record. The band will be heading to Europe on August 10th to play the Czech Republic's Brutal Assault Festival and Belgium's Ieper Fest, followed by a string of Japanese and Canadian dates. Then in November, they are set to headline the UK's Damnation Festival along with a round of headlining dates.
These shows mark the first live performances with new drummer Adam Jarvis (MISERY INDEX, CRIMINAL ELEMENT) behind the kit.
Dates include:
August
10 - Josefov, Czech Republic -Brutal Assault Fest
11 - Ieper, Belgium - Ieper Fest
22 - Tokyo, Japan - Earthdom
23 - Tokyo, Japan - Extreme The Dojo 30
24 - Osaka, Japan - Extreme The Dojo 30
25 - Nagoya, Japan - Extreme The Dojo 30
September
28 - Calgary, AB - Noctis Fest
November
1 - Brighton, UK - The Haunt (with Blacklisters, Self Loathing)
2 - London, UK - The Garage (with Blacklisters)
3 - Leeds, UK - Damnnation Festival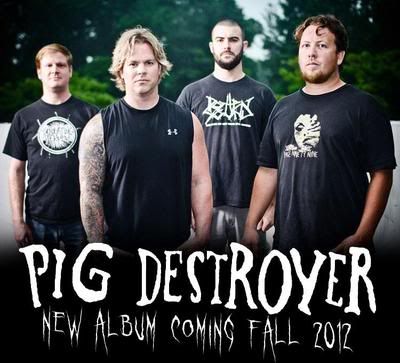 Pig Destroyer recently entered the studio to record their fifth full-length record and first album in over five years. The band is self-producing and recording the new album at guitarist Scott Hull's Visceral Sound Studios in Alexandria, VA.
The as-of-yet-titled album is a return to a raw, primitive sound and will feature 19 songs of their signature misanthropic grind. A late 2012 release is expected via Relapse Records.
This time around, Pig Destroyer have enlisted the help of Adam Jarvis (MISERY INDEX) to lend inhuman drumming skills to the aural hatred. Now a full time member, Scott Hull commented on the addition of Adam: "Tracking the drums happened this week and I'm honestly amazed at how Adam stepped up to the task of learning some challenging shit outside of his standard comfort zone. He came into the studio ready to destroy and destroy he did. And in the haze of long studio hours he never settled for a bad take. He's a real soldier. Adam has helped breathe new life into the band and we feel like we are starting fresh. Everyone here is excited for people to check out the new jams."
More on Pig Destroyer at this location.