POISON's Bret Michaels On His Former Feud With GUNS N' ROSES' Axl Rose - "That Was More Of A Feud In The Media Than It Was In Real Life"
September 20, 2011, 6 years ago
Australia's Triple M recently conducted an interview with POISON frontman Bret Michaels. During the chat Michaels talked about GUNS N' ROSES, dating hot women and partying with MÖTLEY CRÜE. Excerpts from the interview are below:
On the health ramifications with going on tour with party animals Mötley Crüe?
Michaels: "In the US I spent the summer with two of the biggest party bands that put on a big show - Poison and Mötley Crüe. I have prepared my liver for the party that's about to happen."
On the feud with Axl Rose and Guns N' Roses. Has that continued to this day?
Michaels: "Let me be very straight with that. That was more of a feud in the media than it was in real life. Guns N' Roses, Mötley Crüe and Poison were rock bands that were really passionate about what they did. Without a doubt there's a certain amount of competition. You wanna go out there and put on the best show but that friendly competition is good. It helped to sell records back then. Guns N' Roses and Poison were touring, doing the same stadiums and both record labels - Capitol and Geffen - they'd go back and forth with these big publicity releases and then I would see the guys, I'd go to their shows and hang out with them - and I'm thinking 'in the media we're fighting but in the real world we're friends'. Appetite For Destruction is one of my Top 10 ever favourite records."
Read the entire interview at this location.
Bret Michaels will perform at the grand re-opening of the The Hot Mess (formerly The Hayloft) in Mt. Clemens, MI on November 12th. Bret's Get Your Rock On solo tour will be the first event held at the new venue.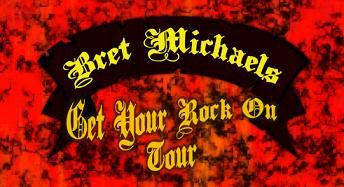 Remaining tour dates are as follows:
September
21 - Brisbane, Australia - Riverstage Brisbane
23 - Darling Harbour, Australia - Sydney Entertainment Center
24 - Melbourne Park, Australia - Rod Laver Arena
October
30 - Los Angeles, CA - Rock 'n' Roll 1/2 Marathon
November
12 - Mt. Clemens, MI - The Hot Mess
December
31 - Springfield, IL - Prairie Capital Convention Center
Michaels is the newest celebrity to partner with the multi-channel retailer HSN.
Michaels, in partnership with Dean Guitars, will launch his Signature Acoustic Guitar Collection and the exclusive HSN guitar bundle on October 2 at 8 p.m. EDT
"I'm thrilled to bring my Signature line of Guitars, my vocal warm-up CD and my solo album, Custom Built to HSN," said Bret Michaels. "HSN has a track-record of bringing innovative, high-quality products to their customers, so this is a natural partnership for me."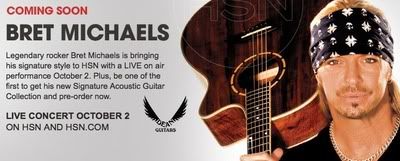 The exclusive acoustic guitar package includes a choice of either a black Player guitar or a pink Jorja Raine guitar and an 8 x 10 lithograph signed photo of Bret Michaels, a Bret Michaels guitar strap, a set of 3 Bret Michaels guitar picks and a 'Learn to Play' DVD with over 400 minutes of practice sessions from TrueFire for $299.95.
A two-disk vocalizer CD including a collection of vocal warm up exercises for aspiring singers as well as Bret's CD, Custom Built will also be available for sale.
During the primetime special event on October 2 at 8 p.m. EDT, Michaels will also play a six-song set in front of a live studio audience at HSN headquarters in St. Petersburg, FL. The set list will feature some of Bret's greatest hits as the frontman for Poison and his solo career, including 'Every Rose Has Its Thorn', 'Something To Believe In' and 'All I Ever Needed'.