PREDATOR - New Album Title, Song Titles Revealed
August 19, 2012, 7 years ago
Ft. Lauderdale, Florida-based metallers PREDATOR have begun pre-production of their third album under the title Thunder After Dark. The album will be produced by Damien Lee Thorr and engineered by Dave Linsk of OVERKILL.
Songs in no particular order are:
'God's Hate'
'Misery'
'Gates Of Hell'
'Noble Nothing'
'Song For Adam'
'Through My Eyes'
'Prelude In Dm'
'Forsaken'
'Footsteps Of Rome'
'Break Down The Walls'
'Nightmare'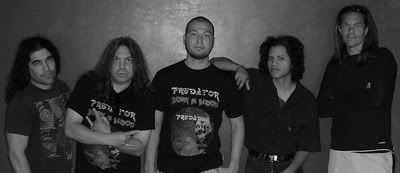 The line up is:
Nestor Aguirre: vocals
Damien Lee Thorr: guitars
Victor Meneses: guitar
Scott Opiela: bass
Ed Gresely: drums
Thunder After Dark will be released on God Of Thunder Records and distributed in Europe by Hellion records and in North America by MVD. No release date has been set, but expect the album to hit shelves in 2013.