ProgPower USA XII The DVD Available For Pre-Order
March 19, 2012, 5 years ago
Production on ProgPower USA XII The DVD has been completed.
ProgPower USA XII was held September 14th to 17th, 2011 in Atlanta, Georgia, and this limited collector's edition DVD, expected to ship in the first week of April, features 14 bands, 27 songs and 3 hours of music.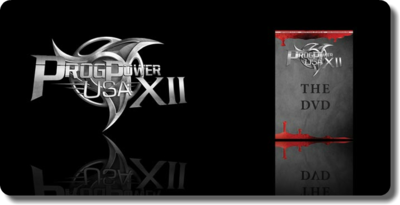 The tracklisting is as follows:
THERION - 'Dies Irie', 'Nifelheim'
EVERGREY - 'Broken Wings', 'A Touch Of Blessing'
SANCTUARY - 'Battle Angels', 'Taste Revenge'
IHSAHN - 'The Barren Lands', 'On The Shores'
FORBIDDEN - 'Adapt Or Die', 'Twisted Into Form'
VANDEN PLAS - 'Holes In The Sky', 'Rush Of Silence'
LABYRINTH - 'In The Shade', 'Lady Lost In Time'
MOB RULES - 'Children Of The Flames', 'Trial By Fire'
WHILE HEAVEN WEPT - 'Of Empires Forlorn', 'Voice In The Wind'
ELDRITCH - 'Heretic Beholder', 'Incurably Ill'
VOYAGER - 'Lost', 'The Meaning Of I'
RED CIRCUIT - 'Homeland', 'Absinth'
HAKEN - 'Celestial Elixir'
CREATION'S END - 'World Holocaust', 'Creation's End'
Click here to order your copy.
A preview can be seen below:
ProgPower USA XIII will return to Center Stage in Atlanta, Georgia, September 12th to 15th. Acts scheduled now include:
Friday, September 14th - EPICA, REDEMPTION, PRIMORDIAL, SERENITY, AMARANTHE, KINGCROW, SINBREED.
Saturday, September 15th - SYMPHONY X, PRETTY MAIDS, MAYAN, SOLUTION .45, LANFEAR, MYSTIC PROPHECY, BEYOND THE BRIDGE.
The Midweek Mayhem show will take place on September 12th, with the official Kick-Off Show scheduled for September 13th. Details to follow.
More on ProgPower USA XIII at this location.